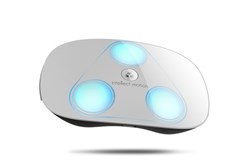 With haptic feedback provided to the user's palm, interaction within 3D spaces, virtual environments, and even web browsing takes on a new dimension
Singapore (PRWEB) October 01, 2013
Intellect Motion, a company focused on delivering motion control devices that deliver haptic feedback, today announced that its Kickstarter campaign (http://kck.st/19QQdhq) to fund the final prototype stages and production of its first product, the iMotion, has begun and has already reached 35 percent of its fundraising goal. The iMotion gives users the ability to interact with games and Apps in 3D space utilizing any standard webcam, while providing haptic feedback within titles that implement the iMotion Software Developers Kit (SDK). The device works with Windows, Mac, Linux, and Android systems as well as the Oculus Rift.
The campaign is now live at: http://kck.st/19QQdhq and the company is asking supporters to pledge at any level to help fund the project. The first 100 iMotion controllers sold out quickly via an early bird promotion for just $49. Now that the early bird version has sold out, the next tier of iMotions is available at $59, but still limited to 2,000 units. The overall project funding goal is $100,000 and the company has 27 more days to reach that level. If the project is successful, the first units are expected to reach early bird supporters in February 2014.
"We've created a project that will deliver a unique interface device that is both affordable and responsive, while featuring very low latency for a high performance experience that outpaces even the most advanced motion control devices available today for the average consumer," said Alex Khromenkov, CEO/CTO of Intellect Motion. "With haptic feedback provided to the user's palm, interaction within 3D spaces, virtual environments, and even web browsing takes on a new dimension. We know people are going to enjoy the immersiveness of the experience that iMotion provides."
Everyone who purchases an iMotion will have access to the SDK meaning anyone with the device could develop for the platform without needing to pay anything else. Additional tiers provide greater access to development resources, and multi-packs of iMotions since the system can support up to four iMotions at once.
Users simply strap the iMotion controller to their hand, similar to a glove, and they're ready to control PC or mobile devices with intuitive, natural gestures. The iMotion is compatible with existing games and applications, and allows users to replace keyboard and mouse commands with gesture controls. All that's needed is the iMotion controller and the free SDK (downloadable from the company's website).
The iMotion controller has three LED lights to establish the body's position in 3D space. It determines the x, y and z coordinates as well as the angle of rotation and plane of elevation. iMotion also features a gyroscope and accelerometer, so people can use it at any angle and achieve a very high level of accuracy and performance for action games and applications.
Features and Key Specs:

The only motion controller that supports full 3D motion control
Can replace your mouse and keyboard with a virtual touch screen
4-channel haptic motion feedback sensor
Functional range of 1 to 16 feet
Supports applications operating at up to 100 frames per second (with a high-end camera)
Pinpoint accuracy of 0.08 inches and low latency of 10 to 20 milliseconds
About Intellect Motion
Founded in 2012, Intellect Motion is a dedicated team of hardware and software engineers, computer scientists and creative designers that are looking to change and enhance how people interact with their computers and other devices. Based in Singapore, and with a Research & Development team in Minsk, Belarus, Intellect Motion is bringing haptic feedback motion control to the masses.
Press Materials: Pictures, Logos, and more are available at: https://www.dropbox.com/sh/cw8fdjvp0ltbdn9/pVYV7Mo56N.