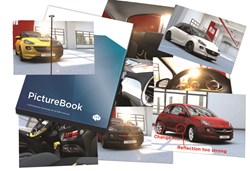 "Users value tools that help them arrive at high-quality final content and reach well-informed decisions faster." - Tim Rau, Head of Content Production at RTT
Royal Oak, MI (PRWEB) October 01, 2013
RTT, the leading provider of professional high-end 3D visualization in realtime, releases the latest version of RTT PictureBook, the data management and creative collaboration platform. The new version enhances collaboration workflows and increases visualization data management.
Key technology
PictureBook, the data management and creative collaboration platform, speeds up processes and creates full transparency for visual data – from CAD files to high-end 3D scenes. While easy to use, it provides a high level of security and accessibility. The software allows users to manage large volumes of visual data and keep it up to date. All relevant workflow steps happen online. And feedback loops run in realtime.
"Users value tools that help them arrive at high-quality final content and reach well-informed decisions faster. PictureBook 7 streamlines collaboration and work process, reflecting parallel enhancements made to DeltaGen 12, to give the end user a highly-efficient, integrated, intuitive suite of high-end production tools," says Tim Rau, Head of Content Production at RTT.
For users on the go, RTT also offers a mobile version of PictureBook 7, enabling quick access to renderings and realtime 3D models.
PictureBook 7 seamlessly integrates with RTT DeltaGen, the leading software for professional high-end 3D visualization. Maximum workflow efficiency is built in.
New key features and enhancements in PictureBook 7:

Intuitive and secure asset management
Live comparisons and project tracking
Reporting functions
Global sharing via replication
Central access to visualization libraries
Secure data access, roles and rights management
Accelerated web-based image production
The enhanced Composer module is equipped with advanced, web-based image production capacity, offering high quality and creative flexibility based on Global Illumination, post effects and HDR lighting. Models can be loaded faster, while improved rendernode handling simplifies collaboration for render resources.
Simplified global decision-making
2D and 3D meetings are conducted directly in a web browser with InstantMeeting. Attendees with access to any level of available hardware can join the meeting and benefit from guaranteed data security. PictureBook 7 also features an updated interface, which facilitates quick and intuitive content sharing to provide an enhanced meeting space. Meetings can be scheduled and resources booked directly from a web browser, while meeting follow ups now include minutes, which can be shared with all attendees.
Boosted lightweight PDM integration
PictureBook 7 offers an integrated visual data management solution built on metadata, structure handling, conversion and update management tools with full DeltaGen integration. To prevent unintended alterations, the software features asset lock and versioning to help users keep track of model changes in 3D. For easier data exchange with office applications and image tools, PictureBook data can be browsed directly from the Windows file system via Windows Extension.
Global connection with Xplore PictureBook
Xplore PictureBook brings key capabilities of PictureBook to mobile devices. Handling is intuitive, while 3D models can be interacted with in realtime, even by users with no previous 3D experience. Xplore PictureBook also allows project reviews on-the-go and asset searches and feedback loops from anywhere.
To learn more about PictureBook 7, and get the latest updated on the upcoming, free PictureBook 7 webinar, please go to:
http://www.rtt.ag/en/offering/software/manage/rtt-picturebook/
About RTT
RTT is the leading, one-stop-provider of high-end software, consulting and creative services in professional, 3D visualization. As a strategic partner, RTT offers sustainable, effective and seamless process support across the entire product lifecycle with its holistic approach. As a result, products are developed faster and more cost-effectively, while time-to-market is significantly reduced. Through creative, photorealistic CGI implementations RTT enables innovative sales and marketing advantages and new dimensions of emotional brand staging. The Group´s customer-base includes companies like Adidas, Audi, BMW, Daimler, EADS, Electrolux, Ferrari, General Motors, Harley-Davidson, Porsche, The North Face and Volkswagen. RTT AG was founded 1999 in Munich. For more information, visit http://www.rtt.usa.com.