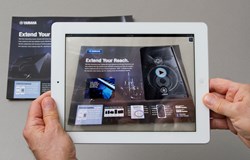 "As technology like Augmented Reality evolves, Yamaha has remained on the forefront of the trend." -- Jeff Hawley, Director, Customer Experience Group,Yamaha Corporation of America
(PRWEB) October 01, 2013
Yamaha's Live Sound Department and Customer Experience Group have taken the lead in introducing a new interactive advertisement for the company's DXR Series Speakers and DXS Series Subwoofers. The print ad offers digitally enhanced content when scanned with an iOS or Android cell-phone or tablet enabled with the Yamaha Hub or Layar augmented reality reader app (available at http://4wrd.it/hubapp). As the device is waved over the page, portions of the ad turn three-dimensional and pop-up icons offer portals to unique social, video, photo and informational content.
"It is essential to ensure that the extended experience available in this interactive ad offers rich content that is not available on the Web site," said Nithin Cherian, Marketing Manager, Live Sound, Yamaha Corporation of America. "This advertisement is an example of the many new tools that Yamaha is developing to offer enhanced experiences for our customers."
The new advertisement will appear in the November issue of Drum! magazine, the November issue of Guitar World and issue number 30 of M Music & Musicians. According to Cherian, the ad provides consumers with a fun, interactive way to learn about the powerful and reliable DXR and DXS speakers, which are able to cover large audiences with high definition sound that extends from earth-shaking bass to smooth soaring highs. Many major brands have embraced the new interactive advertising format, which offers a stepped-up experience from QR codes, the first iteration of interactivity that offered users the ability to scan a digital bar code and usually offered a link to a Web page but provided limited interaction and engagement.
"As technology like Augmented Reality evolves, Yamaha has remained on the forefront of the trend," said Jeff Hawley, Director, Customer Experience Group, Yamaha Corporation of America. "From our early adoption of QR codes, our proprietary INFOSOUND™ audio reader technology and now to our initiative with augmented experiences, we continue striving to identify the best mechanisms for telling our story and delighting customers."
For more information, write Yamaha Corporation of America, P.O. Box 6600, Buena Park, CA 90622; telephone (714) 522-9011; e-mail infostation(at)yamaha(dot)com; or visit http://4wrd.it/YAMAHAUSA.