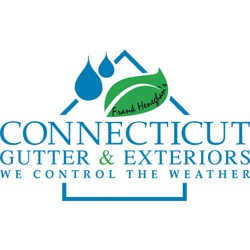 Hartford, CT (PRWEB) October 08, 2013
With a wet and cold winter expected, Connecticut Gutter & Exteriors, a full service gutter cleaning company serving all of Connecticut and parts of Westchester County, is seeing a dramatic rise in requests for commercial and residential gutter cleaning quotes.
With meteorologists and the Farmer's Almanac predicting another wet and heavy snow winter in Connecticut, homeowners and business owners are paying more attention to the condition of their gutters. Last year many people were caught off-guard by the powerful Nor'easter that dumped nearly three feet of snow in certain areas and for those that bypassed on gutter cleaning the results were disastrous. Clogged gutters led to ice dams and this caused many gutters to collapse and those that were left standing did not divert melting snow properly, causing costly damage to roofs, siding and building foundations.
With another messy winter anticipated, homeowners and commercial building owners won't be making the same mistake twice. Connecticut Gutter & Exteriors is already seeing a dramatic increase in requests for gutter cleaning quotes and estimates from around the state. Most gutter cleaners recommend a thorough cleaning and inspection towards the end of November to allow for the trees to shed all their leaves. In addition to getting your gutters cleaned it is also strongly suggested finding a company that can do spot repairs in case tears or leaks are found in gutter systems.
Connecticut Gutter & Exteriors annually cleans gutters at over 1,000 properties and the team is well trained to handle not only gutter cleaning but repairs as well. The company uses a 10-point inspection system that includes checking the condition of mitres, a scan for holes and damage to system components, drip edge positioning, the condition of ground rain caps and the presence of roof debris. Many gutter cleaners will simply remove dead leaves from the gutter but won't offer any feedback on the integrity of the gutter system.
With Connecticut Gutter & Exteriors customers not only get high quality cleaning that includes the removal and bagging of all debris but also a thorough inspection that will help homeowners make better decisions on repairs and possible gutter replacement. Waiting until winter arrives is not a good way to protect a home or business. Calling the day before an anticipated storm won't help when it comes to ensuring a gutter system is ready for heavy rain, snow and ice. Being proactive in maintaining gutters is crucial to being safe when the weather turns bad.
Another service offered by Connecticut Gutter & Exteriors is emergency snow removal, a crucial step in avoiding roof leaks and in some cases, collapse. Snow and ice can accumulate very quickly during a blizzard and if left to rest on a home or office building roof, problems will soon follow.
Started in 2003, Connecticut Gutter & Exteriors strives to be the best gutter service company in the state. Offering full gutter services including installations, repairs, cleanings and snow and ice removal, the company also handles many home improvement projects including roofing, siding, metal flashing, replacement door and window installation and rainwater harvesting. Fully trained to do on-site repairs, the Connecticut Gutter & Exterior team is trusted by many Connecticut homeowners and business owners to clean and inspect gutter systems so no foul weather conditions will cause leaks, clogs and weak spots. For more information visit CT Gutter or call (203) 878-2411.