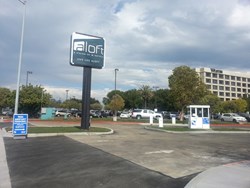 "Our focus is on maximum customer comfort with minimum cost attached."
San Francisco, CA (PRWEB) October 02, 2013
Greenbee Parking, a fast growing airport parking service, has received top honors of being one of the most preferred providers in the latest SFO airport parking reviews (http://www.greenbeeparking.com/CALIFORNIA/SFO/Reviews-of-SFO/page.html). Parking has long been a major bone of contention between the authorities and passengers using the very busy San Francisco (SFO) airport. Despite several renovations, the SFO airport has not provided adequate parking for all travelers utilizing their lots. One reason is, of course, is the volume of business, since SFO ranks as one of the top global airports in terms of passenger traffic. A second reason is the lack of space, which is at an all-time premium in San Francisco. The innovative parking offers from Greenbee Parking has opened up better parking options at lower rates. Now travelers can look forward to utilizing secure and easy parking for their vehicle every time they use SFO, without creating a huge dent in their travel budgets.
"Our focus is on maximum customer comfort with minimum cost attached," said Christine Cooper – Marketing Coordinator, Greenbee Parking. "The responses we have received from our clients show that our efforts have been successful. The SFO airport parking reviews have given us further impetus to excel and come up with more innovative parking offers."
San Francisco Airport Parking Information
San Francisco (SFO) is one of the top 20 airports in the world, in terms of passenger traffic, freight movement as well as daily landings and take-offs. It is one of the major business and financial hub for the US and subject to many international and national business travels. These naturally add to the high business travel figures in the city which complements the equally high tourist figures to make SFO one of the busiest airports of the world. Along with all the major hotspots of San Francisco and its neighboring areas, the scenic wonders of California, the airport is also a major gateway for South American and Pacific tourist getaways. The demand and rush that these figures create have been considerable especially in areas like viable airport parking options. With the advent of Greenbee Parking this rush and scarcity has been well taken care of. Now frequent travelers can hope to get excellent long term parking options at very reasonable rates that will no longer hurt their travel budgets, which shows why the young brand has fared so well in the SFO airport parking reviews. Greenbee also has a number of affordable options for short term parking or even for a one time customer which means that no matter how late you decide to book your parking space you will still be eligible for a secure and great parking location, at reasonable costs.
The Greenbee Airport Parking Solution
Greenbee Parking has effectively bridged the gap between parking problems and solutions at both airports and major seaports. They have tied up with major hotels for available parking spaces at discounted rates which they offer their customers across the nation who can now save up to 75% of their parking costs.
All they need to do is visit Greenbeeparking, select their city or airport of choice, choose the parking spot and pay through a secured payment gateway. There is a comprehensive list of airports and parking spots to choose from. Greenbee's wide network makes it possible for every customer who logs in to find a solution.
About Greenbee Parking
Greenbee Parking is the nation's most innovative long term parking company, with a new way of making long term parking affordable. The company is rapidly adding new airports to its network.