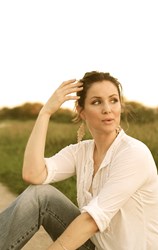 Writing the book was the easy part; now you have to market it.
(PRWEB) October 01, 2013
Michelle Colston, author of "The Undiscovered Goddess" and host of The Undiscovered Goddess on webtalkradio.net, has launched a new segment on her radio show that will give self-published authors an opportunity to get their names out there and gain some priceless publicity – for free. The segment, called "The Undiscovered Author," will feature interviews with independent authors that Colston selects.
As an independent author herself, Colston knows first-hand how hard it can be to get a book out there – especially on a limited budget. So now she's taken her experience and started this segment to lend a helping hand to her fellow literary artists. "After buckets of blood, sweat and tears, not only have you finally become the published author you've always dreamt of becoming…you've suddenly realized the coveted title of 'published author' no longer means what you thought it did," Colston says. "Writing the book was the easy part; now you have to market it. You didn't go through all that work and sacrifice to stock your garage with boxes of unsold books—you have a story, a message you want to tell the world. In order to do this, you have to tell the world that you've arrived! But getting your name out there isn't always easy…or cheap. That's where I come in."
For a chance to be featured on Colston's show, self-published authors can submit a synopsis to Colston. Here's how to enter for a chance to be interviewed on The Undiscovered Author:

Step 1: Like The Undiscovered Goddess on Facebook.
Step 2. Follow The Undiscovered Goddess on Twitter at @McGoddess.
Step 3. Subscribe to The Undiscovered Goddess on Web Talk Radio.
Step 4. Email a brief bio and summary, as well as your intentions for your book. What do you hope to achieve through sharing this story? To entertain? To inspire? To create awareness? It's important, so don't forget to include this in the email!
After the author's submission is reviewed, if selected, he or she will be contacted for their very own interview on The Undiscovered Goddess radio show. This will be a free opportunity to create buzz amongst thousands of listeners!
And get this: Colston will even give some publicity to those who don't get selected for the radio interview. "Even if you don't get selected, I'll still give your book a shout out, name and title, along with posting your information on my website—all as a token of my gratitude for reaching out and following my show," Colston says. "That, my friend, is what they call a 'win-win' situation."
Submit all queries (no attachments) to: michelle(at)theundiscoveredgoddess(dot)com
About Michelle Colston
Michelle Colston is a mother, writer and all around American neurotic. What first began as a hobby, writing irreverent jokes and "Get to Know Your Friend" emails, has developed into a full-fledged vocation. Michelle draws inspiration from the simple experiences of daily life: womanhood, friendship, a perpetual identity crisis and wrangling three children, a messy house and a writing career–all while trying to refrain from using the F-word excessively. She is the author of "The Undiscovered Goddess," host of the new internet radio talk show of the same name, and is currently studying Woman's Issues & Gender Studies at the University of Massachusetts while working toward her Life Coaching Certification. For more information, visit http://www.theundiscoveredgoddess.com, like The Undiscovered Goddess on Facebook and follow on Twitter @McGoddess.