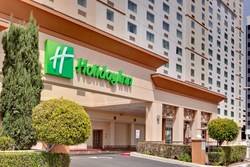 "...We are constantly trying to come up with more innovative ways to serve our clients."
Los Angeles, CA (PRWEB) October 03, 2013
Greenbee Parking, a fast growing airport parking service, has just announced their partnership with Holiday Inn in Los Angeles. With this strategic partnership, Greenbee customers can now enjoy a wider range of cheap LAX airport parking options (http://www.greenbeeparking.com/CALIFORNIA/LAX), both for long and short term needs. Los Angeles is one of the leading tourist destinations of the world which naturally means a very heavy footfall of leisure travelers round the year. The city itself, along with the surrounding scenic treasures of the state, is the obvious draw but Los Angeles (LAX) also serves as a popular gateway to other destinations in Latin America and the Pacific Islands. The growing business figures also give rise to growing demands of better infrastructure which includes better and more parking options. The multifarious offers from Greenbee Parking along with their partnerships promise to make the ordeal negligible for all travelers using LAX. While the overall costs are going to be definitely lower for long term customers, Greenbee has an amazing array of options for short term bookings as well.
"We know that demands for better parking will only increase with time and that's why we are constantly trying to come up with more innovative ways to serve our clients," said Christine Cooper – Marketing Coordinator, Greenbee Parking. "Partnerships, like the one we have just announced with Holiday Inn, are simply strategic steps to ensure that we can keep up to our promises and bring affordable and easy solutions for all our clients and that too at very cheap LAX airport parking rates."
Los Angeles Airport Parking Information
Los Angeles International Airport is one of the busiest in the world and among the top ranking in North America. With Los Angeles being one of the leading tourist attractions and a major business hub it is no surprise that the airport will be a busy one. It is estimated that about 1000 take-offs and landings happen every week here, a staggering figure which gives one a sneak peek at what the ground level traffic would be like. Travelers using the busy Los Angeles (LAX) airport frequently have long been complaining about the inadequate airport parking options, which though considerable, fall far short of the growing demand every day. Thankfully with service providers like Greenbee Parking in the picture there is more than a glimmer of hope for travelers and authorities alike. Especially now with their newly formed partnership with Holiday Inn which offers a secure and cheap LAX airport parking, away from the hubbub of the airport, allowing travelers to park at leisure and then catch the shuttle to the airport without having to worry about the traffic and the rush.
The Greenbee Airport Parking Solution
Greenbeeparking.com is the connection between consumers and parking vacancies in close proximity to major airports and seaports. The parking spaces are very affordable because the company has negotiated discounted rates with major hotel chains for the parking spaces that are not currently occupied. Here's how it works.
Greenbee Parking puts the available inventory of parking spaces on their website to be reserved by business and leisure travelers looking for cheap airport parking. This alternative method for finding parking equates to significant savings for the traveler. These savings are sometimes as much as 75% less than parking at the airport or seaport.
About Greenbee Parking
Greenbee Parking is the nation's most innovative long term parking company, with a new way of making long term parking affordable. The company is rapidly adding new airports to its network.