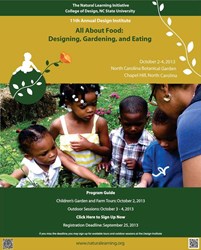 This is a must-attend event for nature play enthusiasts
Chattanooga, TN (PRWEB) October 01, 2013
PlayCore, a leading designer, manufacturer, and marketer of a broad range of play and recreation products, is proud to partner with the Natural Learning Initiative, a research and design assistance unit of the College of Design, NC State University to sponsor their 11th Annual Natural Learning Design Institute. This year's Design Institute's theme is "All About Food: Designing, Gardening, and Eating" with a focus on creating outdoor learning environments and programs that contribute to healthy nutrition and the love of growing food.
The event will be hosted at the NC Botanical Garden located in Chapel Hill, NC on Wednesday, October 2- Friday, October 4. Approximately 200 participants are expected to attend this year's Design Institute including childcare and preschool providers, consultants, technical assistance providers, extension agents, master gardeners, public health professionals, and designers. Learn more at http://naturalearning.org/11th-natural-learning-design-institute.
Over the past five years, PlayCore has partnered with the Natural Learning Initiative to sponsor professional development opportunities and partner with their team of experts on the development and dissemination of two best practice design guidebooks, NatureGrounds: Creating and Retrofitting Play Environments and Pathways for Play: Infusing Play into Pathway Networks offering guidelines to intentionally design nature back into the everyday spaces of childhood. Attendees will be able to request these two resources at this year's Design Institute. Learn more or request copies of the guidebooks at http://www.playcore.com/programs/design-programs.aspx.
About Natural Learning Initiative (NLI)
The Natural Learning Initiative is a research, design assistance, and community engagement unit founded in January 2000 to focus on outdoor design as an intervention tool in the built environment of children and families. The purpose of the Natural Learning Initiative is to promote the importance of the natural environment in the daily experience of all children, through environmental design, action research, education, and dissemination of information. Learn more at http://www.naturalearning.org.
About PlayCore
PlayCore helps build stronger communities around the world by advancing play through research, education, and partnerships. The company infuses this learning into its complete family of brands. PlayCore combines best in class planning and education programs with the most comprehensive array of recreation products available to create play solutions that match the unique needs of the each community they serve. Learn more at http://www.playcore.com.