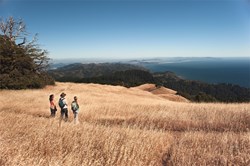 European style Inn-to-Inn hiking
Mill Valley, California (PRWEB) October 02, 2013
Due to popular demand, TrekInnMarin, Marin County's premier Inn-to-Inn hiking company, has added day hikes to their lineup of multi-day hiking tours. The luxury inn-to-inn guided trips are a little like "glamping", but with hiking between upscale country-style inns complete with superb dining experiences. Hikers are now able to enjoy a custom day hike with the experienced guides.
"The company was founded with the vision of sharing the amazing recreational resources of Marin County in the traditional European style of inn-to-inn hiking and is now responding to popular demand by offering day hikes for travelers to the San Francisco Bay Area," said Cary Rosen, founder of TrekInnMarin.
These day hikes will be designed together with the client, and will usually include transportation from San Francisco, hiking some of the beautiful trails of Marin County plus a gourmet lunch or concluding dinner.
For more information on TrekInnMarin please visit their website at http://trekinnmarin.com/.