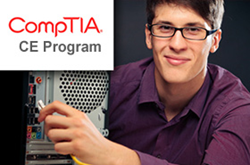 New York, NY (PRWEB) October 01, 2013
Learn about new features of botnets, malware, and certified ethical hacking at NetCom Learning's upcoming free interactive webinar to be held October 3, 2013 from 5:00 to 6:30 PM PDT. Entitled: "CompTIA CEU Activity: Botnets & Precision Targeted Malware: Certified Ethical Hacking", the complimentary webinar will be given by Security Expert, Fernando Uribe, along with technical training leader, NetCom Learning. The webinar will be focused on APTs and internal threats; learners will have a chance to earn 1 CompTIA CE Unit upon complement.
In this webinar session, we will cover:

Botnets
Precision Targeted Malware
CEH v8.0 Course Schedules
Q&A
Time:

5:00 -5:30 | Check-In, Instructor Remarks, Light Refreshments
5:30-6:30 | Webinar Viewing
Location: 195 E. Reno Ave, Suite C, Las Vegas, Nevada
The featured speaker for the webinar event is Fernando Uribe, an experienced cyber security consultant and system engineer. Having more than 16 years in IT training, Fernando regularly shares his expertise in online user forums and community sites.
CompTIA Training at NetCom Learning
NetCom Learning is an authorized CompTIA Platinum Partner offering the latest CompTIA training and certification courses. CompTIA certifications are recognized worldwide as a trusted indicator of qualified and competent professionals in the IT industry. In CompTIA certification courses at NetCom, students learn practical skills in a real-world environment while earning the certifications to validate their skills to employers. The leader in IT training provides the most innovative learning solutions including standard, boot camp, accelerated and customized training, and these offerings are available at NetCom Learning's three convenient locations, or anywhere in the world via Live Online or onsite training. NetCom Learning instructors who routinely achieve high ratings from their students possess an average of 16 years of experience and a cumulative average of more than 10,500 years' experience in the field of their expertise. Instructors carry an average instructor evaluation of 8.6 out of 9, one of the highest instructor evaluations in the industry. The high quality of training has resulted in over 2,000 testimonials and a 96% customer satisfaction rate with those customers indicating they would recommend NetCom Learning to others. Recently NetCom Learning earned an NPS score of 65 which is much higher than average. NPS scores are used to gauge customer satisfaction and loyalty; a score of 50 is considered to be excellent.
Upcoming CompTIA Course Schedule:
October 7 - A+ and Network+ Certification
October 14 - Linux+ Certification (Linux+, LPIC-1 and Novell CLA 11)
October 28 - A+ and Network+ Certification Boot Camp
October 28 - CompTIA Advanced Security Practitioner (CASP) Certification
November 4 - Security+ 2011 Certification Boot Camp
November 11 - Linux+ Certification (Linux+, LPIC-1 and Novell CLA 11)
December 2 - Train the Trainer (CTT+/MCT)
To learn more about CompTIA training events visit http://www.netcomlearning.com/vendors/1/CompTIA-training.html or contact us at info(at)netcomlearning(dot)com or call us at 1-888-563-8266.
Register now for the CompTIA CEU Activity: Botnets & Precision Targeted Malware: Certified Ethical Hacking http://www.netcomlearning.com/courses/info.phtml?ID=23423&advid=412
About NetCom Learning
NetCom Learning is an innovative leader in IT, business and executive training to companies, individuals, and government agencies. Since its inception in 1998, NetCom Learning has trained over 80 percent of the Fortune 100, provided training to more than 45,500 business customers, and advanced the skills of more than 71,000 professionals through hands-on, expert-led training, with the organization maintaining an average instructor evaluation score of 8.6 out of 9. NetCom Learning was recognized by Microsoft Corporation as its Worldwide Training Partner of the Year and named three times to Inc. Magazine's list of fastest growing private companies in America. The organization was also recently named to the 2012 Top 20 IT Training Companies by TrainingIndustry.com and was named "Company of the Year" by the American Business Awards. The purpose of NetCom Learning is to promote the values of lifelong learning.