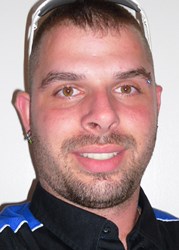 He was within a foot of being hit by a whizzing car.
Alexandria, Virginia (PRWEB) October 01, 2013
The Truckload Carriers Association (TCA) has announced the name of its latest Highway Angel: David Kus of Fredericksburg, Pennsylvania, who drives for Swift Transportation, headquartered in Phoenix, Arizona. Kus is being recognized for acting quickly when a fellow motorist had an accident and then inadvertently put himself in more danger.
On July 1, 2013, at about 10:30 a.m., Kus was driving along I-95 southbound on his way to Baltimore, Maryland. It was lightly raining and the road surface was uneven from some recent paving work. A man in an SUV passed him and then lost control on the uneven pavement, slamming into another tractor trailer that was in front of Kus. After crashing into the tractor, spinning around, and colliding with the trailer several times, the SUV came to rest near the median.
Kus stopped, activated his flashers, and brought his fire extinguisher to the scene to see what could be done to help. The driver appeared alright physically, but seemed like he was in shock. Kus helped him out of his vehicle so he could be checked by a paramedic team that stopped by on its way to another emergency. After determining that the man's life was not in immediate danger, that team told Kus that other paramedics would be along soon, and kept going to its original destination. A police officer from another jurisdiction stopped as well, but he said he had no authority and would simply wait with Kus and the motorist until local personnel arrived.
While Kus and the officer discussed what had taken place, Kus noticed something strange out of the corner of his eye: the man was stepping across the white line onto the extremely busy highway. He instinctively lunged forward and pulled the disoriented man back to safety. At the officer's request, Kus returned the man to his car for his protection, staying with him for at least 40 minutes until the medics arrived. At one point, the disoriented man tried to start his ignition, so Kus took his keys away. Kus stayed on the scene to answer questions and make sure the man was in good hands before continuing on his way.
"He was within a foot of being hit by a whizzing car," said Kus, who is a volunteer firefighter and a former member of the U.S. Army National Guard. "He was just casually walking into a four-lane highway without a care in the world. I think he may have had a diabetic issue because he told me he hadn't taken his medicine that morning."
For helping the man, Kus, who has been driving for about three years, has been presented with a Highway Angel lapel pin, certificate, and patch. Swift Transportation also received a certificate acknowledging that one of its drivers is a Highway Angel.
TCA's Highway Angel program is sponsored by Internet Truckstop. Since the program's inception in August 1997, hundreds of drivers have been recognized as Highway Angels for the unusual kindness, courtesy, and courage they have shown others while on the job.
To nominate a driver or learn more about the program and its honorees, visit the Highway Angel Web site at http://www.truckload.org/Highway-Angel or Facebook page at http://on.fb.me/tcanews. For any additional information, contact TCA at (703) 838-1950 or angel(at)truckload(dot)org.
# # #
TCA is the only national trade association whose collective sole focus is the truckload segment of the motor carrier industry. The association represents dry van, refrigerated, flatbed, and intermodal container carriers operating in the 48 contiguous states, as well as Alaska, Mexico, and Canada. Representing operators of more than 200,000 trucks, which collectively produce annual revenue of more than $20 billion, TCA is an organization tailored to specific truckload carrier needs.
Founded in 1995, Internet Truckstop is the first and largest freight matching service on the Web. Internet Truckstop offers more tools than any other freight matching service available. These easy-to-use tools, the largest freight database, and a commitment to the transportation industry make Internet Truckstop the leader in Internet freight matching.