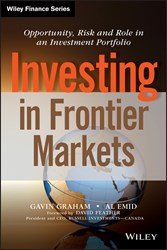 Hoboken, N.J. (PRWEB) October 03, 2013
Investing in Frontier Markets: Opportunity, Risk and Role in an Investment Portfolio, co-authored by longtime money manager and media commentator Gavin Graham and financial journalist and broadcaster Al Emid, is a new book that provides an all-inclusive analysis of frontier markets. The authors define the term, explain its history, view the countries generally termed 'frontier markets', and examine the professional advisor's role in counseling individual and institutional investors.
The co-authors define frontier markets as the approximately 60 countries not included in developed and emerging market indices. In Sub-Saharan Africa, the list includes countries such as Nigeria, Ghana, Ivory Coast and Mauritius. In Asia, the list includes Bangladesh Vietnam and Kazakhstan. In Europe, it includes Slovenia, Slovakia and Serbia while in Latin America it includes Argentina, Colombia and Ecuador. In the Middle East, it includes Kuwait, Jordan, and Bahrain. AT this time, it also includes Qatar and the United Arab Emirates (although these countries move to emerging market status in 2014).
Investing in Frontier Markets suggests that frontier markets offer the same potential for growth as provided earlier by emerging markets. Frontier markets also have the potential to reduce portfolio volatility since these markets do not correlate – or move in the same way at the same time – as other investment categories such as the developed markets of North America and Europe. "The fact that frontier markets are not correlated with other markets, and in many cases not with each other, makes them attractive to investors who look for greater potential growth than offered by other categories," Graham said. He added that factors such as the volatility, risks, and liquidity concerns of frontier investments make a compelling case for making these investments through an actively managed vehicle such as a global frontier markets fund.
The co-authors strengthen their case by analyzing other investment categories, stressing the uncertainties surrounding the United States stock market and the recession-hit eroded European markets. "We base part of the argument on the growth potential of frontier markets and part of it on the current condition of other markets," Emid said. He emphasized that while every investor is different a baseline weighting of frontier markets in a portfolio could be between 5 and 10 per cent of its total international weighting, a threshold that a professional advisor can adjust up or down depending on an individual investor's risk tolerance, life situation and other factors or the institutional investor's cash requirements.
The co-authors have begun researching and writing Frontier Markets for Dummies and they broadcast Emerging and Frontier Markets Investing on VoiceAmerica every Wednesday from 9:00 a.m. – 10:00 a.m. Eastern time. They also publish a newsletter focusing on Emerging and Frontier Markets.