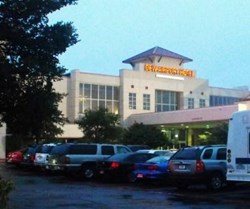 "We are constantly trying to provide newer and cheaper ways to serve our clients..."
Dallas, TX (PRWEB) October 20, 2013
Greenbee Parking, a growing airport parking service, has just announced cheap Dallas airport parking rates (http://www.greenbeeparking.com/TEXAS/DFW) for travelers using the busy Dallas (DFW) airport. Their new offers include varied and discounted parking options for long term customers. The Greenbee benefits do not stop there as they have numerous discount parking options for short term and even one time bookings. What Greenbee customers can also enjoy is the no extra surcharge for late bookings which usually means premium prices elsewhere. For a busy airport like DFW the services of Greenbee Parking have been a definite benefit since the regular airport parking options can be higher in price. With DFW's ever expanding business, this demand will only increase which only justifies the presence of service providers like Greenbee.
"We understand how busy airports like DFW can be and want to make sure that all our customers feel the least inconvenienced while traveling through here," said Christine Cooper – Marketing Coordinator, Greenbee Parking. "We are constantly trying to provide newer and cheaper ways to serve our clients so that they can enjoy their travels without paying too high a price for them. The new cheap Dallas airport parking rates will make sure that they get the best of services at the best of prices without having to look too hard."
DFW Airport Parking Information
DFW International Airport is one of the top airports in the nation and one of the busiest in the world. It sees a high turnover of passenger footfalls and air traffic round the year which also means high ground traffic. Dallas is one of the major business hubs in the country with a large number of multinationals and Fortune 500 companies setting up their headquarters there. It is as much a home for traditional industries like oil and core energies as it is for emerging ones like technology, renewable energies and life sciences. Naturally business traffic is steady and heavy and with over 200 destinations directly connected with this airport the rush will only increase with time. Service providers like Greenbee Parking have been a blessing since their flexible and affordable parking solutions have immediately eased the burden of airport parking and traffic around the region. The new discounted and cheap Dallas airport parking rates will insure further comfort for travelers, as now they can now get easy parking without paying a steep price.
The Greenbee Airport Parking Solution
Greenbeeparking.com is the connection between consumers and parking vacancies in close proximity to major airports and seaports. The parking spaces are very affordable because the company has negotiated discounted rates with major hotel chains for the parking spaces that are not currently occupied. Here's how it works.
Greenbee Parking puts the available inventory of parking spaces on their website to be reserved by business and leisure travelers looking for cheap airport parking. This alternative method for finding parking equates to significant savings for the traveler.
About Greenbee Parking
Greenbee Parking is the nation's most innovative long term parking company, with a new way of making long term parking affordable. The company is rapidly adding new airports to its network.