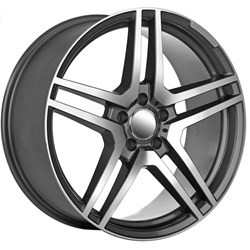 More than 135 different options exist, enabling Mercedes owners to achieve the look, feel and ride quality they desire.
San Diego, CA (PRWEB) October 02, 2013
UsaRim, a leading provider of high-quality wheels, tires and wheel/tire packages, has today released new Mercedes wheels in a range of styles, sizes and finishes. The new wheel options give Mercedes owners the means to enjoy the highest quality performance, while adding unique looks to their vehicle.
UsaRim offers a full range of Mercedes wheels, including 15, 16, 17, 18, 19, 20 and 22-inch options. All told, more than 135 different options exist enabling Mercedes owners to achieve the look, feel and ride quality they desire. All of UsaRim's Mercedes wheels are manufactured to exacting OEM specifications, ensuring the perfect fit and full safety after installation, as well.
When it comes to Mercedes wheels, variety and choice matter a great deal. To that end, UsaRim offers a host of finish options, including gunmetal, chrome, silver, black, matte black, hyper silver, and machined face, lip and accent styles. Spoke number, arrangement and style vary considerably as well. Customers will find classic five-spoke Mercedes wheels, but there are also blade designs, seven spoke designs, split spoke designs and several others. All wheels feature OEM bolt pattern, offsets and center bore size.
In addition to the broad range of Mercedes wheels on offer, UsaRim also provides free shipping on all items. Unlike other retailers, this is not a limited time offer or only available with specific items. UsaRim offers free shipping every day, with no coupon codes or special promotions.
For customers hoping to save a few dollars on their Mercedes wheels, UsaRim is proud to offer a price-matching program. Customers simply alert UsaRim to the lower price on an identical item (in stock), and UsaRim will match the price, guaranteed. Financing is also available through the website for qualifying buyers.
To learn more about the Mercedes wheels available, or to peruse the company's other wheel and tire options, visit http://www.UsaRim.com.
About UsaRim: UsaRim has built a reputation for providing the highest quality aftermarket wheels, tires and wheel/tire combinations on the market. The company offers Mercedes wheels, as well as options to fit BMW, Honda, Mazda, GMC, Cadillac, Volvo, Volkswagen, Toyota, Porsche and more.