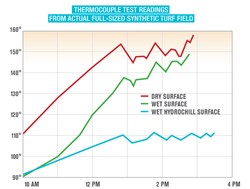 The introduction of HydroChill marks the biggest impact on heat reduction in the history of synthetic turf. This will change the way customers look at turf systems. - Dr. Phil Stricklen
Calhoun, Georgia (PRWEB) October 01, 2013
Whether it's the repetitive grind of practice or the last drive to win the game, athletes who play on synthetic turf feel the heat in more ways than one.
Shaw Sports Turf today announced the development of an advanced system called HydroChill, to combat the heat on synthetic turf fields. While there are some heat reduction technologies available in the market, most have proven ineffective for extreme temperatures…until now.
HydroChill, which has been in development for nearly three years, has shown cooling effects of as much as 50 degrees compared to normal synthetic turf systems.
"Shaw Sports Turf is committed to extraordinary performance, and the new HydroChill technology is a result of that commitment," said Pete Sigmon, Vice President of Innovation at Shaw Industries. "This system provides a substantial cooling effect that will have a great impact on athletes in extreme climates."
When athletes sweat, evaporation cooling takes place when evaporation of moisture from the skin's surface has a cooling effect. HydroChill works on the same principle. As the turf surface is heated by solar radiation, moisture stored in the turf is released, leaving a cooler, more comfortable surface for athletes.
The technology is applied to a field where components react and form a coating on the infill. The field is watered to activate HydroChill and then energy from sunlight drives out water, removing heat from the surface. The cooling effect of HydroChill after watering can last two to three days. Watering alone can result in some cooling, but temperatures can rise and quickly exceed uncomfortable levels of heat. HydroChill creates a substantial and sustained temperature difference.
HydroChill provides maximum benefit when the sun is nearest the Earth. During the summer months the sun is positioned overhead, causing surfaces to absorb more energy, resulting in hotter temperatures. Temperature differences of 50 degrees have been seen on an outdoor field. Studies have shown that temperature differences of over 30 degrees provide a noticeable increase in the comfort level to athletes.
Those hot months are having a great effect on everyone, especially athletes. Take a look at these facts:
Over 1,000 synthetic turf fields are installed or replaced each year.
Of the energy absorbed into turf from solar radiation, 90% is released as heat, while only 10% is conducted into the ground.
2012 was the hottest year on record in the United States.
2011 and 2013 were the 2nd and 3rd hottest summers on record.
Seven of the 10 hottest summers on record have occurred since 2000.
More than 80 million people in the United States experience 100 degree temperatures where they live in 2012 (that was 10 million more people than in 2011).
The research behind HydroChill has been extensive and has been conducted for nearly three years, both in laboratory tests and in real-world field applications currently in use by athletes. Shaw Sports Turf's testing facilities include an entire lab dedicated to the study of heat on turf. It houses a custom-built solar simulator with a watering mechanism that simulates rainfall so testing can be conducted on a year-round basis. Tests on a variety of outdoor surfaces were conducted with thermocouples, an Infrared thermometer and by a certified thermographer with a Forward Looking Infrared (FLIR) camera.
HydroChill is UV-resistant and will not affect the performance characteristics of a synthetic turf field. Shaw Sports Turf warranties remain in effect with the use of HydroChill.
"Our process in bringing HydroChill to market has been very scientifically regimented," said Dr. Phil Stricklen, Director of Research & Development at Shaw Sports Turf. "We tested in a variety of settings with several test instruments in order to make sure the findings were consistent. The introduction of HydroChill marks the biggest impact on heat reduction in the history of synthetic turf. This will change the way customers look at turf systems."
One of the test sites for HydroChill was at Kennesaw State University, just north of Atlanta. Laura St. Onge, Associate Director of Sports & Recreation, has seen first-hand the benefits of HydroChill.
"Overall, HydroChill has made playing on our Shaw Sports Turf field this summer a fantastic experience," said St. Onge. "We have maintained cooler surface temperatures without having to continuously run the water cannons. HydroChill has allowed for increased playability, greater comfort and safety for our athletes, and with our spectator stands located so close to the field, it's been more comfortable for fans and visitors."
St. Onge said that HydroChill has played a big role in the safety of student-athletes at Kennesaw State.
"As part of our EAP (Emergency Action Plan) protocol, we have to take ongoing measurements of the turf surface with our IR gun," said St. Onge. "We did not have to clear the field once this summer. That is monumental."
Shortly after HydroChill was installed, KSU hosted a national lacrosse tournament with over 150 teams. Instead of running the water cannons the morning of and in between games, they simply watered the field the night before the tournament started and cooling occurred throughout the entire weekend without having to rehydrate.
HydroChill is now available and can be used with most new or existing Shaw Sports Turf fields. The next installation of HydroChill will be underway on a newly installed Shaw Sports Turf field at Great Parks in Orange County, California later this month.