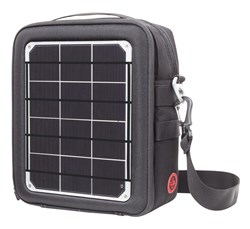 Brooklyn, NY (PRWEB) October 01, 2013
Voltaic Systems introduced a tablet-optimized redesign of its Switch Solar Bag. This travel or go bag features 6 Watts of rugged solar power, a 15 Watt-hour universal battery, protective tablet storage and plenty of room for a camera, water bottle and other gear. The new Switch is available for $129.
Designed for modern travelers, the Switch provides up to 80 minutes of runtime on an iPad Mini, or other 7" tablet, for every hour in the sun. It will also charge smartphones, GoPro cameras and other USB devices.
"Many of our customers take tablets with them on their trips. The current 7" tablets provide good run times from relatively small batteries, which makes them well suited to solar charging." said Shayne McQuade, CEO of Voltaic Systems. "The Switch makes it possible to keep these devices charged no matter where they end up."
6 Watts of Power for Fast Charging
Integrated into the front of the Switch is a rugged, waterproof 6 Watt solar panel. Charge times vary by devices, but these high-efficiency monocrystalline cells will recharge a typical smartphone in less than four hours. The panel is built to withstand the abuse of everyday use. The cells are encased in a clear, UV and scratch resistant coating, and backed by a rigid aluminum composite material.
High Output USB Battery
The included V15 USB battery stores power so the Switch can charge devices anytime. The battery has 15 Watt hours of capacity, enough to charge an iPhone 1.7 times and an iPad Mini 2/3 full. For more battery storage, the 39 Watt hour V39 battery is available as an optional upgrade for $39. Both batteries can be charged from the solar panel or any USB port.
Roomy Case Made for Storing and Charging Electronics
The Switch has a padded tablet sleeve and wire channels to deliver power throughout the bag. The bag has mesh pockets up front for storing cables and phones, a water bottle holder and a larger storage area that will fit a DSLR camera, a spare pair of shoes or other gear. There is also an optional phone pouch attachment. The Switch can be carried by its removable shoulder strap or its top handle or can be attached to another bag via its sturdy aluminum D-Rings.
Pricing and Availability
The Switch is available today at http://www.voltaicsystems.com/switch and through retail partners for $129. The 6 Watt solar panel is also available on its own or as part of a kit starting at $50 at http://www.voltaicsystems.com/6wattkit.php
Key features and specifications of the Switch include:

6 Watts of solar power (panel available in silver or charcoal)
15 Watt hour battery with 5V, 1A USB output
Optional upgrade to 39 Watt hour battery with dual USB output
Charging cables with micro and mini USB adapters to connect directly to most handheld electronics (iPhone and iPad owners can connect the original USB cable to the USB port of the battery )
10.75" high x 9" wide x 4.0" deep
1 pound 11 ounces including battery and solar panels
Multiple carrying options including top handle and removable shoulder strap
Waterproof fabric manufactured from recycled PET
Voltaic was founded in 2005 to develop energy solutions using environmentally-intelligent designs. For more information please visit http://www.voltaicsystems.com, or contact us at 1.877.304.6861 x701 or media(at)voltaicsystems(dot)com. High-resolution photos are available upon request.