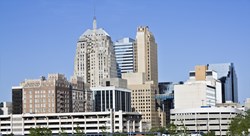 "Our partnerships are specially focused to create easier parking options for all our clients."
Manchester, NH (PRWEB) October 07, 2013
Greenbee Parking, a fast growing airport parking service, has announced a strategic partnership with NH Airport Valet Parking in Manchester. As one of the youngest entrants in the industry, Greenbee Parking is faced not only with competition but also with rapidly rising demand and crisis in the airport parking scenario. They have however, taken very little time to quickly establish themselves as a very dynamic team with very flexible and user-friendly services. The reason for their fast rise to popularity is their deep insight of the industry and innovative offers which has broken the traditional barriers of rigid parking rules and steep rates. A case in hand is their out of the box ideas, like their partnership with NH Airport Valet Parking, which will allow all travelers using the Manchester (MHT) airport to park their cars in leisure at a secure spot, away from the rush and hassle of the airport traffic. Once they have done that they can simply take the shuttle to the airport and reach without worrying about battling traffic or missing their flight, and all at cheap MHT airport parking rates (http://www.greenbeeparking.com/NEW_HAMPSHIRE/MHT).
"Our partnerships are specially focused to create easier parking options for all our clients," said Christine Cooper – Marketing Coordinator, Greenbee Parking. "We want maximum convenience and comfort for our clients, which means easy parking at great MHT airport parking rates and with NH Airport Valet Parking we hope to do exactly that in Manchester."
Manchester–Boston Regional Airport Parking Information
Manchester–Boston Regional Airport is the preferred alternate airport for the busy Logan International Airport and therefore sees quite a bit of traffic despite being a medium sized airport. While it records a more business travel in its volumes, it is also a chosen airport for the scenic locations in New Hampshire which range from beaches to lakefront and skiing resorts. Together, these result in heavy air and subsequently ground traffic which in turn leads to rising demands for better airport parking. Fortunately, with service providers like Greenbee Parking in the scene, the parking scenario is now much improved. They have come up with various parking offers for both long term and short term bookings at affordable MHT airport parking rates, ensuring that no one has to pay the steep price anymore to get a secure location for their vehicles. The partnership with NH Airport Valet Parking has opened up the chances of getting better locations and easy booking even more. Now even one time bookings can come with great rates and so does the late booking opportunities. If you are in a rush you don't have to pay the premium for it anymore.
The Greenbee Airport Parking Solution
Greenbeeparking.com is the connection between consumers and parking vacancies in close proximity to major airports and seaports. The parking spaces are very affordable because the company has negotiated discounted rates with major hotel chains for the parking spaces that are not currently occupied. Here's how it works.
Greenbee Parking puts the available inventory of parking spaces on their website to be reserved by business and leisure travelers looking for cheap airport parking. This alternative method for finding parking equates to significant savings for the traveler. These savings are sometimes as much as 75% less than parking at the airport or seaport.
About Greenbee Parking
Greenbee Parking is the nation's most innovative long term parking company, with a new way of making long term parking affordable. The company is rapidly adding new airports to its network.