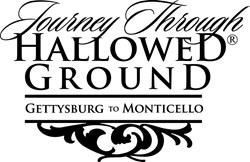 Waterford, Virginia (PRWEB) October 02, 2013
Farmer Forrest Pritchard will speak about his book "Gaining Ground: A Story of Farmers' Markets, Local Food, and Saving the Family Farm" at a program sponsored by the Journey Through Hallowed Ground Partnership on Wednesday, October 16th. The event, which starts at 7:00 p.m., will take place at the organization's headquarters, located at 15481 Second Street in Waterford, Virginia.
His talk takes place on World Food Day, which was established by the Food and Agriculture Organization of the United Nations (FAO) in 1979 and was first observed in 1981. World Food Day takes place on October 16 and draws attention to achievements in food security and agricultural development. As part of the observation, a network of 450 organizations have taken action in their own ways to showcase models of success in food security and to highlight what more needs to be done.
Pritchard's book is about a seventh-generation farmer's inspiring journey to the heart of the sustainable farming community. Pritchard is a professional farmer, writer and public speaker. Holding degrees in English and Geology from William and Mary, Forrest studied under George Garrett with the University of Virginia's MFA program. His farm, Smith Meadows, has been featured on NPR and the Washington Post. One of the first "grass finished" farms in the country, Smith Meadows has sold at leading farmers' markets in Washington DC for fifteen years. His book Gaining Ground, A Story of Farmers' Markets, Local Food and Saving the Family Farm was named a Top Ten Book by Publishers Weekly, Washingtonian and NPR's The Splendid Table.
The cost for the event is $10 and includes a pre-event reception at 6:00 p.m. with light refreshments being served. Pre-registration is required as limited seating is available and books will be available for purchase and signing. For more information, or to register, visit http://www.HallowedGround.org.