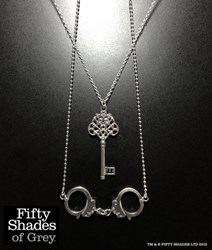 "It's amazing to see such beautiful jewelry inspired by Fifty Shades," said James. "I'm so proud to be involved with Janet Cadsawan and I'm thrilled with all the designs."
New York, NY (PRWEB) October 01, 2013
"Geek Chic" jewelry designer, Janet Cadsawan brings Fifty Shades trilogy to life with a brazen new jewelry collection.
Cadsawan and E L James, author of Fifty Shades of Grey, collaborated to create chic, secretive accessories as wearable reminders of the empowering, sensual essence of the Fifty Shades series. Fashion and fiction climax in Christian's Tie Ring, Handcuff Bangles, Riding Crop Earrings, and an elegant Scrolled Key Pendant. Anticipation builds as a Flogger Lariat Necklace, Riding Crop Rings, Ana's Charm Bracelet, and a Masked Collection are released one by one over the coming months. Prices will range from $40--$450.
This unique collaboration developed after years of Cadsawan creating cult collections of fashion-forward fine jewelry inspired by popular stories. Cadsawan custom designs and collections for films, television, and book series include True Blood, Vampire Academy and Ryan Gosling's How to Catch a Monster. 
"It's amazing to see such beautiful jewelry inspired by Fifty Shades," said James. "I'm so proud to be involved with Janet Cadsawan and I'm thrilled with all the designs."
One of TIME Magazine's Most Influential People, E L James' work changed the world of publishing, culture, and fashion. Authors are taking risks in self-publishing, women and men are taking risks in their bedroom, and the styles of the characters has encouraged racier fashions.
Cadsawan jewelry is designed in New York City and manufactured in locally with reclaimed metals. Popular with stylists and celebrities, the Cadsawan collection is sold in galleries, boutiques, and its webshop (http://www.cadsawan.com and http://shop.fiftyshadesofgreyfinejewelry.com/).
To request samples, images & information, or to schedule an interview with Janet Cadsawan, please contact Valerie Miller Markham at valeriemiller(at)cadsawan(dot)com C: 917.657.5121.