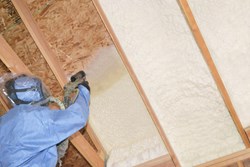 I just didn't think it could get this good!
Fredericksburg, VA (PRWEB) October 01, 2013
Six months ago, Andy and Anitra Kitfield had their house insulated with Demilec USA's spray foam insulation and had the experience documented by the hit television show, Designing Spaces: Think Green. The Kitfield's home is a 1952 Cape Cod style home located in the heart of Virginia and was in dire need of additional insulation. When they were contacted by the team at Designing Spaces: Think Green, they eagerly jumped at the opportunity to increase their home's energy efficiency with spray foam insulation from Demilec USA.
Grant Ostvig, Regional Manager for Demilec USA and Ken Thacker, owner of NOVA Spray Foam Insulation recently had an opportunity to sit down with Andy and Anitra and speak candidly with them about their experience of having Demilec spray foam insulation installed in their house, and what the living conditions have been like since. When asked whether her expectations were met by having Demilec spray foam insulation installed in her attic and basement, Anitra stated that "It's been so much better than I even could have possibly imagined, especially with this old house. I just didn't think it could get this good!" Andy had friends with newer homes that contained spray foam insulation and was surprised to learn that the foam could be installed into an older home as a retrofit as well. Now that the foam has been in their house for 6 months, Andy noted that their average utility bill was on the lower side of what they once paid, while Anita noted the increased comfort of the home and reduced insect and pest presence.
The full interview can be viewed in the YouTube video embedded on this page or by clicking this link.
Demilec USA is a leading manufacturer of spray foam insulation products for use in homes, commercial buildings and more. With new technologies, experience and service, Demilec USA provides a wide range of products to meet the needs of homeowners, building professionals and contractors across the world.