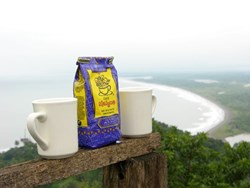 (PRWEB) October 02, 2013
When most travelers to Costa Rica hear the term 'rainy season', all thought of travel gets stuffed into a box and put in the closet until the promise of sun. Why visit the tropics, if not for sunshine and hot weather?
Most people will hope for shine, and do their best to endure the rain. However, in Costa Rica rain is a matter of attitude. Those who fret about the possibility or rain and cower in their hotel rooms when it does come are missing out on a side to Costa Rica which few get to experience: Enjoying the rain.
The rain in Costa Rica should not be a negative aspect to one's vacation, but a positive one. Firstly, in order to have rainforest—you need rain. Yep, it's true. A qualified rainforest receives between 98 to 180 inches of rain per year. (Seattle, in contrast, receives 38 inches per year.) Part of Manuel Antonio's natural beauty comes from the omnipresent rainforest—and also creates the richest habitat in the world for wildlife.
Secondly, at 9 degrees north of the equator, right in the middle of Costa Rica's tropical coastline, the rain is pleasantly warm. In places like Colorado the temperature of the rain can be life threatening if exposed too long. In Costa Rica, you just get wet.
Thirdly, being exposed to the rain during the rainy season in Costa Rica is an experience in itself. Unlike areas like Seattle—which somehow manage to spread out 38 inches of rain in a constant drizzle over 8 months—in Costa Rica the rain turns on and off like a faucet. When it rains, it pours—or as they say in Spanish, it rains 'frogs and toads'. Here in Costa Rica, it's perfectly common to have a beautiful, sunny morning—then a quick 4-inch deluge of rain—and then a nice, clear sunset. To feel the sheer power and importance of the rain in the rainforest is to have experienced a side of the environment that most people never get to experience.
There are also a number of fantastic activities that are fun in the rain. Provided there is no lightning, the ocean and beach take on a different character. The clean water is pleasant in the salty surf—and shows just how warm the ocean is, also. Rafting is another great rainy day activity: You're going to get soaked anyway. The hissing rain on the river is a nice alternative from the hot sun, and prevents the sunburns common to first time rafters. For the adventurous, any of the rainforest activities—waterfall rappelling, canopy tours, hiking, horseback riding, etc.—all take on another element of excitement. Zip-lining through the rain is no less safe, but somehow more exciting.
Perhaps the best thing about staying at the Shana Residences during the rainy season is coming back to the comfort of one's own condo after a day in the elements. Nothing adds to the succor of luxury like being exposed to nature beforehand.
The key is to come to Manuel Antonio, Costa Rica, prepared for rain and shine. Know that it can be hit and miss in the peak months of September and October; you'll likely have a mix of both, but be prepared for either. Come with an open mind and a positive attitude. Have a Plan B on hand at all times. Bring both rain gear and sunscreen. Check out the local restaurants. And above all—keep a positive attitude! It's just rain!