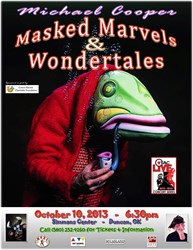 He spins tales and weaves stories using an unusual and colorful cast of characters. Creating a world where dogs wear hats, wild stallions are tamed, giant noses sneeze and fish bait candy to catch children in a pond, children of ALL ages will laugh.
Duncan, OK (PRWEB) October 02, 2013
On October 10, 2013, The Chisholm Trail Arts Council's (CTAC) LIVE concert series is pleased to present the work of Michael Cooper, an eye-popping visual artist and virtuoso mime whose exquisite performances have dazzled audiences for nearly thirty years.
His one-man extravaganza combines his breathtaking handcrafted masks, original stories of courage and wonder, outlandish stilt dancing and a physical repertoire that ranges from the madcap to the sublime.
"Masked Marvels" is a family friendly concert with an earlier than usual performance start time and specially priced children's tickets. Doors open at 6pm with the performance beginning at 6:30pm at the Simmons Center's Jack A Maurer Convention Center theatre, 800 Chisholm Trail Parkway in Duncan, Oklahoma.
Tickets can be purchased prior to the show date of Oct 10 through CTAC's website at http://www.chisholmtrailarts.com or by calling CTAC's office at 580-252-4160. Tickets may also be purchased the night of the event at the theatre's box office.
For further information, contact Darcy Reeves, Chisholm Trail Arts Council at 580-252-4160 or email director(at)chisholmtrailarts(dot)com or The Duncan Convention and Visitors Bureau at 1 -800-782-7167 or tourism(at)simmonscenter(dot)com.