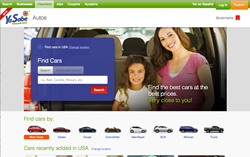 With Autos, YaSabe offers dealers and private sellers a digital marketing solution to reach Hispanic consumers who are in-market and searching for cars online
Herndon, VA (PRWEB) October 01, 2013
YaSabe, the leading local and mobile search destination catering to U.S. Hispanics, today launched Autos, the first bilingual automotive classifieds advertising service specifically built for Hispanic consumers. Built using responsive design, YaSabe Autos provides a modern pin-board interface and advanced search functionality, which are available from any web or mobile browser.
"US Hispanics purchased more than 7M new and pre-owned vehicles last year, a 27% increase from the year prior, which is twice the rate of growth in the general market," said Zubair Talib, CEO of YaSabe. "YaSabe offers dealers and private sellers a digital marketing solution to reach Hispanic consumers who are in-market and searching for cars online."
The new Autos site enables consumers to search from of thousands of new and used cars, trucks, vans and SUVs. The New Autos classifieds from YaSabe features:

Bilingual search capability and user interface.
Location based results – provides visitors with personalized results based on location awareness, establishing immediate engagement with users.
Responsive website technology – equipped with the latest visualization technology to provide users with an optimal viewing experience across a wide range of devices.
Full text and natural language search capabilities – users can search for specific terms or use full-formed sentences such as "Black SUV <$30k with less than 50k miles".
Browsing and search refinements by location, make, model, year, color, mileage, and price.
The new Autos platform lets YaSabe syndicate content to Hispanic media partners and to local automotive dealers that want to provide their users with a bilingual search interface. YaSabe will offer services and specialized digital marketing products to automotive dealerships and private sellers that are interested to reach Hispanic consumers.
Visit the new Autos in its beta version at classifieds.yasabe.com.
About YaSabe
YaSabe is America's largest and fastest growing local search destination for businesses and classifieds information that cater to Hispanic consumers. YaSabe connects millions of users annually to online listings, cultural content and community-sourced information. Offering a fully bilingual interface, including personalized email responses from local experts, YaSabe has grown by 800%, year-over-year. For content publishers and advertisers, YaSabe provides partnership possibilities with syndicated content, revenue opportunities, and access to expanded Hispanic audiences. For more, visit http://www.YaSabe.com.