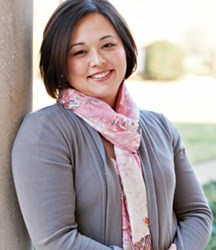 Chesapeake, Virginia (PRWEB) October 02, 2013
The AGD Fellowship Award is presented to dentists who seek to provide the highest quality of dental care by remaining current in their profession. To accomplish this goal, Dr. Parvin completed 500 hours of continuing dental education, passed a comprehensive exam, and fulfilled three years of continuous membership in the AGD.
As a Fellowship Award recipient, Dr. Parvin joins more than 6,900 active AGD Fellows who have gone above and beyond the basic requirements to care for their patients' oral health.
"We are proud to honor Dr. Parvin for her commitment to the profession," says AGD President Linda J. Edgar, DDS, MEd, MAGD. "She has distinguished herself professionally among her peers and is a role model for both fellow dentists and community members of Chesapeake."
Dr. Parvin graduated from University of Kentucky College of Dentistry in 2005 and currently practices dentistry in Chesapeake, VA. She and her husband, Chad, have two children, Calla and Quinn.