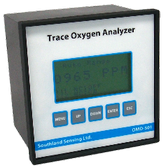 Las Vegas, Nevada (PRWEB) October 02, 2013
Southland Sensing Ltd., is pleased to announce the OMD-501 Trace Oxygen Analyzer for measuring parts-per-million (PPM) O2 in an inert gas purifier. This new analyzer combines the precision electrochemical fuel cell technologies of the TO2-1x oxygen sensor with a full featured multi-range analyzer platform. The compact 1/4 DIN panel mount package with graphical backlit display represents superior performance in a small compact footprint capable of measuring 1ppm O2 up to 21%.
The OMD-501 is linear over all 5 of its ranges which include 0 – 10ppm, 0 – 100ppm, 0 – 1000ppm, 0 – 1% and 0 – 25%. The analyzer can be configured in manual range or auto-range mode. The auto-range mode has a 1 – 5 VDC range ID analog output. The analyser is powered by 12-28VDC.
The transmitter also features 2 fully adjustable NO or NC alarm relay contacts with built in delay mode and an analog 4 – 20mA output. The controller can be configured with a KF40 (KF-40) type sensor housing or a flow through BSPP (1/8" or ¼" NPT) fittings making this unit an ideal solution for glove box or inert gas purification applications.
For additional information regarding the Southland Sensing Ltd's new trace oxygen analyzer, please contact your local customer service representative.
For more information on Southland Sensing Ltd's OMD-501 Trace oxygen Analyzer or other products within its gas sensing product line, please contact your local distributor or visit Southland Sensing direct on the internet at http://www.sso2.com.