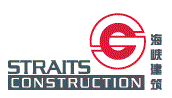 "CMiC's software offers great potential for further business expansion and growth."
Toronto, ON (PRWEB) October 02, 2013
Straits Construction Singapore Limited has been approved to receive a government grant from The Building and Construction Authority (BCA), a statutory board under the Ministry of National Development of the Singapore Government.
After diligently assessing the viability of CMiC Software, the Building and Construction Authority has agreed to provide a grant to Straits for the construction of public housing and residential high rise communities using its ERP solution. Straits had been seeking additional funding for their project, which will be completed in multiple stages, commencing on August 10, 2012 and ending on August 9, 2015.
"CMiC's software offers great potential for further business expansion and growth with our own affiliated companies and this was a key consideration by the Singapore Building and Construction Authority," says Sri Ganesh, Senior Project Manager at Straits Construction.
Straits will receive government funding for the project to compensate for implementing CMiC software. This is the first of its kind for a CMiC product and a milestone in the East Asian market. As the industry becomes increasingly competitive and to some degree, commoditized, CMiC has developed new thinking and solutions, highlighting how businesses can move from 'legacy to leading edge' in a cost-effective manner enabling them to enhance the customer experience across multiple channels.
"For CMiC this is great news. This further proves that integrating a company's project oriented processes into one ERP solution pays dividends in productivity gains for a construction company like Straits, in one of our emerging markets," says Gord Rawlins, President at CMiC.
The Singapore Government is considering giving more incentives to progressive contractors who are prepared to upgrade their processes. CMiC along with the BCA, will help contractors build up their capabilities and enhance their competitiveness. They are hoping to set a new industry standard, lead by example, with the help of companies like Straits Construction.
About CMiC
CMiC is the leading provider of complete, integrated and advanced enterprise level software solutions for construction and capital projects. For nearly four decades, CMiC has partnered with the largest and most technologically progressive architectural, engineering and construction firms in North America, gaining detailed insight into the unique business needs of the industry. From that experience, CMiC has created CMiC Open Enterprise v10x, the most advanced construction and capital project software solution ever developed. Combining an incredibly flexible technological infrastructure with a philosophy of total integration, CMiC Open Enterprise v10x lowers costs, improves productivity and increases interoperability.