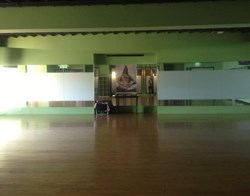 We are thrilled to be offering yoga and therapeutics to the Potrero Hill community.
San Francisco, CA (PRWEB) October 01, 2013
Yoga Tree SF, San Francisco's premier yoga and teacher-training center, opened their eighth studio in trendy Potrero Hill, and launches with an opening party on Friday, October 4th. Located at 1500 16th Street (at DeHaro), the opening party will start with a free yoga class from 6:00pm - 7:30pm, followed by dancing and DJ music by Philip Steir, DJ Zain and Musician Dhruva Lance.
Yoga Tree Potrero Hill offers a wide variety of classes from Yoga Therapeutics and Wall Ropes, to Kundalini, Yin Yoga and Yoga for Cancer Patients (this class is offered gratis to all patients), plus a full schedule of Vinyasa, in a spacious and clean environment. The studio will also carry a mixture of events, workshops and teacher trainings. The studio includes changing rooms, a women's lounge, two bathrooms and retail space.
"We are thrilled to be a part of Potrero Hill and love that it's such a health-centric community," said Tim Dale, Co-Owner of Yoga Tree. Portero Hill has numerous fitness centers in the area as well as healthy markets and innovative restaurants.
The yoga schedule includes Kerri Kelly, Jason Bowman, Harvey Deutch, Betty Roi, Leslie Desaulniers Lauren Slater, Jessica and Stéphane Dreyfus, Laura Burkhart, Stacey Rosenberg and Eva Monova Rose to name a few.
Please check the Yoga Tree SF website for the yoga class schedule: http://www.yogatreesf.com/locations/potrero-hill.html, or follow us on Facebook to find out about our specials: http://www.facebook.com/YogaTreeSF.
Located in the trendy Potrero Hill district between the technology gulch and San Francisco Design Center, there are a wide range of restaurants and a Whole Foods all within walking distance. The location is conveniently located off of the freeway and has ample free parking.
About Yoga Tree
Yoga Tree SF is known for the best instructors from around the world, teaching in studios that are clean, warm and supportive. Yoga Tree is a green company and is committed to helping the yoga community, people in need, the environment and the planet. It offers a variety of yoga styles, including advanced studies. All classes share one thing in common – a comfortable, safe space in which to explore the body, mind and soul.
Location: Yoga Tree Potrero Hill, 1500 16th Street, San Francisco, CA 94103
Phone: 415-655-3936
Website: yogatreesf.com
Photos: Available upon request