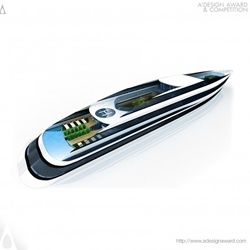 Como, Italy (PRWEB) October 01, 2013
A' Design Award and Competitions are pleased to announce that the work Silverback Gorilla, by Johann Szebeni, has been awarded with the famous Golden A' Design Award in the Yacht and Marine Vessels Design Category.
Details of Silverback Gorilla
Inspired by an atrium house, Silverback Gorilla is a 73 meter long yacht concept with a two courtyards. The concept is not oriented for the most functional use of space, but aspires to pinpoint the architectural parameters of open space. The central point of the yacht is the atrium garden with a panoramic view, however in case of bad weather, the courtyard is protected by a automatically adjustable glass-roof.
To learn more, please visit: http://www.adesignaward.com/design.php?ID=28186
The Golden A' Design Award
The Golden A' Design Award is a prestigious award given to top 3% percentile designs that has achieved an exemplary level of excellence in design. The designs are judged by a panel of three different jury which is composed of Academic, Professional and Focus Group Members. The designs are evaluated with score normalization to remove any biases and are voted on aspects such as functionality, ergonomics, engineering, presentation, innovation, usability, fun details, technology, and any other specific points that could be considered, each of these points are further weighted for different jury groups.
About A' Design Award and Competitions
A' Design Award and Competitions, aims to highlight the excellent qualifications of best designs, design concepts and design oriented products. A' Design Award and Competitions are organized and awarded annually and internationally in multiple categories to reach a wide, design-oriented audience. Learn more: http://www.whatisadesignaward.com