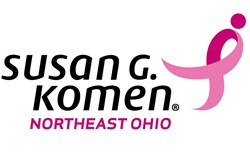 Cleveland (PRWEB) October 01, 2013
Real men wear pink, and approximately 100 Northeast Ohio men will prove just that on Tuesday, Oct. 1, at the inaugural Susan G. Komen Northeast Ohio Pink Tie Guy event. These men will kick off Breast Cancer Awareness month by donating $1,008, in honor of the one in eight women who will be diagnosed with breast cancer in their lifetime.
Each Pink Tie Guy will receive a custom tie, specially designed by J3 Clothing Company. Participants will don the tie during the fundraiser, which starts at 6 p.m. at the Calfee, Halter & Griswold LLP building, 1405 E. 6th St. in Cleveland. The special tie can only obtained through Susan G. Komen Northeast Ohio and is available only to Pink Tie Guy donors.
"Susan G. Komen Northeast Ohio is asking men to step up to the plate—to support their wives and daughters, sisters and mothers who may have fought this disease," said Sean Shacklett, executive director of Susan G. Komen Northeast Ohio. "With the funds raised, we will be able to provide education, screening, treatment and survivor support services for those most in need in the Northeast Ohio community. That translates to more lives saved, and ultimately, more survivors here with us fighting the battle against breast cancer."
The unique lure for this men-only event is that there were no tables to sell or fill, no spouses with which to coordinate and no sponsorships to consider. All the Pink Tie Guys have to do is write the check and show up for cocktails, good food and music, plus they'll get a great tie that they can wear throughout the month of October, which is Breast Cancer Awareness Month. According to the committee members, it was an easy ticket to sell in the realm of helping worthy causes.
"This tie symbolizes a true commitment to the fight against breast cancer," continued Shacklett. "The Pink Tie Guy program is a campaign about awareness but is also a way to raise money. We're engaging men in the breast cancer movement and empowering them to be involved."
At the event, Susan G. Komen Northeast Ohio will honor Christopher M. Connor, Chairman and Chief Executive Officer of The Sherwin Williams Company, as Honorary Chair. For more information on Susan G. Komen Northeast Ohio, visit http://www.komenneohio.org.
About Susan G. Komen Northeast Ohio
Since 1994, Susan G. Komen Northeast Ohio has provided more than $13 million in grants to more than 50 Northeast Ohio organizations. In 2013, Komen Northeast Ohio granted more than $900,000 to 11 agencies that serve 22 counties across the region. The agencies provide mammograms, screening, education, outreach and survivor support. Up to 75% of the money raised locally funds programs in Northeast Ohio, and the remaining 25%helps fund the Susan G. Komen National Research Grant Program. Our vision is a world without breast cancer.
About Susan G. Komen®
Nancy G. Brinker promised her dying sister, Suzy, she would do everything in her power to end breast cancer. Today, Susan G. Komen® works to end breast cancer in the U.S. and throughout the world by investing more than $750 million in breast cancer research and $1.5 billion in community outreach programs over the past 30 years; providing funding to help low-income and uninsured women get screened and get treatment; advocating for cancer research and outreach programs; and working globally in more than 30 countries.