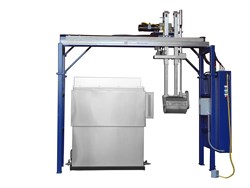 The PCHR is customizable, and can be used on all vapor degreasing systems, regardless of the manufacturer.
Williamstown, WV (PRWEB) October 03, 2013
Baron Blakeslee, an industrial equipment company, has just released the revolutionary new PCHR Rotating Basket Hoist. The PCHR works on vapor degreasers and overcomes the drawbacks of conventional older rotating basket hoists.
Unlike many rotating basket designs, the PCHR is simply constructed and designed to be compact. It also has a telescoping driveshaft that minimizes solvent drag out.
The PCHR's major features are designed for convenience, such as a manual jog function, adjustable speeds, a color touch screen, a simple cable lift design, and PLC control. The PCHR is customizable and can be used on all vapor degreasing systems regardless of the manufacturer. It includes an emergency stop button for safety. More information can be found on the manufacturer's website: baronblakeslee.net.
Baron Blakeslee is a top manufacturer of standard and custom industrial cleaning equipment. The company is based in Williamstown, WV, and has served the military, automotive, aerospace, electronics, medical and other industries for over 75 years.