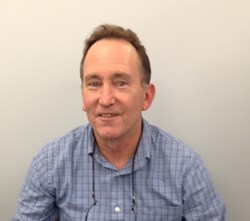 PEI has always been known for our commitment to providing the highest-quality products in the industry. Bellemer's experience in process engineering will further our excellence goals." Chip Lehrer, President, PEI
Milford, MA (PRWEB) October 02, 2013
Chip Lehrer, President of Photofabrication Engineering, Inc. (PEI) of Milford, MA, has announced that Charlie Bellemer has joined PEI as a process engineer. With his extensive engineering experience at companies such as Raytheon, Medtronic Navigation, Honeywell, Viasys/Tecomet, and Teredyne, Bellemer brings a wealth of knowledge in process improvements, electronic fabrication, and product development to PEI.
Bellemer, a graduate of Worcester Polytechnic Institute, has been involved in Six Sigma Certification, training, kaizen, lean and anova techniques, SPC implementation, ISO/Mil spec compliance, and process documentation, among other activities, for over 30 years. His primary duties at PEI will include process controls and improvements, process development for new products, and interaction with customers and suppliers towards best solutions.
Lehrer explains that adding Bellemer to the staff is another leap forward for PEI and its goal of lean manufacturing without compromising customer service or satisfaction. "Since PEI was founded 45 years ago, we have prided ourselves on our commitment to providing our customers with the highest-quality products, backed by process and production excellence. Bellemer's training and involvement in all aspects of process engineering will help us improve our performance as the company grows."
Established in 1968, Photofabrication Engineering, Inc. is a world-famous American precision metals fabricator which has developed proprietary metal etching processes to create precision metal parts in thicknesses from 0.0005 in. to 0.125 in. The firm is ITAR compliant and holds ISO 9001:2008 and AS9100 certifications. The Precision Products Division serves myriad manufacturing industries including aerospace, automotive, battery, consumer electronics, defense, fuel cell, medical (devices and implantables), microelectronics, semiconductor, and telecommunications. The Decorative Products Division provides custom-made collectibles and business gifts as well as design, manufacturing, and marketing program services to schools and alumni associations, religious organizations, museums, and corporations.