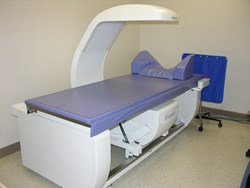 Body composition with DXA is the gold standard for precise measurement of fat, muscle, and bone in the entire body.
Durham, NC (PRWEB) October 01, 2013
Triangle Orthopaedics is raising the bar in bone health imaging. Triangle Orthopaedics' multispecialty practice has recently acquired a new state-of-the-art DXA bone densitometer. Unprecedentedly, this particular machine, the Discovery model A manufactured by Hologic, Inc., is not just limited to bone density scans but can also perform Vertebral Fracture Assessments (VFAs). Approximately two thirds of spine fractures occur without symptoms and often before a bone density scan can classify a patient as osteoporotic. A Vertebral Fracture Assessment can identify osteoporotic fractures before the symptoms of a fracture occur. The VFA study is low cost and very safe. Patients are exposed to less radiation than a passenger on a flight from New York to LA would experience.
"Our Hologic Discovery DXA system produces the rich, high-resolution images and critical diagnostic information that you need to accurately assess bone density, fracture risk, body composition, and calcified plaque in the abdominal aorta," says Robert Stewart, M.D., medical director of the DXA lab at Triangle Orthopaedics.
Body composition with DXA is the gold standard for precise measurement of fat, muscle, and bone in the entire body. This test should be done before any weight loss surgery and yearly thereafter to monitor what body tissue is losing weight. This test is helpful for anyone serious about weight loss and for those seeing a fitness trainer. It can also be used for athletes recovering from an injury to monitor response to rehabilitation and is especially useful among serious athletes whose performance requires them to maintain specific body fat percentages.
The new machine offers total body composition and is the only machine with this capability in the Triangle area. Scheduling a total body composition study at Triangle Orthopaedic Associates is a low-cost alternative to more expensive medical research centers. Appointments can be made by calling Triangle Orthopaedics in Durham at 919-220-5255. The study takes 30 minutes and patients need to wear workout or gym clothes with no metal.
About Triangle Orthopaedic Associates, P.A.:
Since 1952, Triangle Orthopaedics has been treating an array of conditions from sports related injuries to joint replacements. Our rehabilitation centers afford thorough guidance to patients during the recovery process. Today, we have 16 locations across the greater Triangle region, including six Urgent Care clinics located in Apex, Chapel Hill, Durham, Raleigh and Wake Forest. With over 50 physicians, six MRI locations and numerous physical therapy facilities, you can count on us. Also, our Orthopaedic, Rehab Medicine, Rheumatology and Surgical Specialists Departments have got you covered! For more information on TOSC and Triangle Orthopaedic Associates, P.A., please visit: http://www.triangleortho.com .