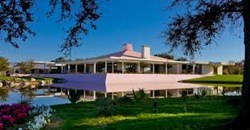 The public is invited to join in to celebrate these spirited, creative and farsighted individuals who make a difference in our community.
Palm Springs CA (PRWEB) October 02, 2013
At its 9th Annual Awards Luncheon, the Palm Springs Modern Committee (PS ModCom) will honor individuals and organizations that have made exceptional contributions toward furthering Desert Modern architecture in the areas of preservation, restoration, community enrichment, and new construction.
The public is invited to join PS ModCom in celebrating these spirited, creative and farsighted people who inspire us to make a difference in our community. The seated luncheon is from 12:15 – 2:15 p.m. at the Hilton Hotel Palm Springs, which has been newly remodeled in the Desert Modern style. Tickets are $50.00; tables of ten may be purchased in advance.
The 2013 award recipients include:
Residential Preservation Award to James Reid for the Merito residence, 1957. Due to outstanding stewardship, this unique residence remains in the same pristine condition today as when it was constructed more than fifty years ago, complete with original furnishings by Arthur Elrod.
Commercial Preservation Award to Harold Matzner for the Bougainvillea Room of the historic Palm Springs Tennis Club designed by Paul R. Williams and A. Quincy Jones, 1947,
Excellence In New Modern Design Award to Robert Stone for Rosa Muerta, 2009, and Acido Dorado, 2010. Set in the high desert landscape of Joshua Tree, these extraordinary properties represent cool modern architecture combined with unique personal expression.
Community Enrichment Award to Sunnylands, the Annenberg Estate, 1963. Now serving as a meeting center for world peace, the Sunnylands presentation includes photographs of the June meeting of President Obama and President Xi enjoying a relaxing time amid the beautiful surroundings of this magnificent estate.
Preservationist of the Year Award to Elizabeth Edwards Harris for her leadership role in restoring the Kaufmann Desert House, designed by Richard Neutra, 1946 and the former Santa Fe Federal Savings and Loan designed by E. Stewart Williams, 1960 now the future home of the new Architecture and Design Center of the Palm Springs Art Museum. Since her arrival in Palm Springs in the early 1990's, Beth has undertaken some remarkable projects that have secured the City's place among the top architectural destinations in the world. Please join in toasting her success stories and ongoing efforts as she continues her journey in this important leadership role.
For tickets or information contact Nickie McLaughlin nickie (at) psmodcom (dot) org
The Palm Springs Modern Committee is a non-profit organization dedicated to the appreciation and preservation of Desert Modern architecture and design. We accomplish this through education, advocacy for threatened buildings, promotion of heritage tourism, and the celebration of successes in preservation and adaptive reuse. For additional information about PS ModCom, please visit: http://www.psmodcom.org Contact: Nickie McLaughlin, nickie (at) psmodcom (dot) org