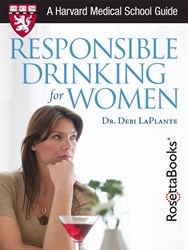 This is a terrific new book that will help many women as well as their loved ones. - Dr. Julie Silver, Chief Editor of Books for Harvard Health Publications
New York, NY (PRWEB) October 01, 2013
Drinking alcohol affects women and men differently, but how and to what extent? Dr. Debi LaPlante, an Assistant Professor of Psychiatry at Harvard Medical School, reveals the latest information about the physiological and psychological complexities of alcohol use for women in Responsible Drinking for Women. The eBook addresses women's concerns about the need to scale back or quit their drinking with clarity and compassion.
"This is a terrific new book that will help many women as well as their loved ones," said Dr. Julie Silver, Chief Editor of Books for Harvard Health Publications.
"Each Harvard Health Publications original eBook is an important contribution to its field," said Arthur Klebanoff, CEO of leading independent digital publisher RosettaBooks.
Dr. LaPlante is the Director of Research & Academic Affairs at the Division on Addiction, Cambridge Health Alliance in addition to her work at Harvard. She also is senior editor of the online review The BASIS, publishing weekly reviews of the most recent academic research focused on addictive behavior, including alcohol misuse. Dr. LaPlante's extensive research into the intersection between women's health and alcohol use has been groundbreaking in demonstrating the psychological and physiological complexities of addiction in women.
Harvard Medical School was founded in 1782 and encompasses 18 affiliated hospitals with more than 11,000 faculty physicians. Harvard Health Publications is the media and publishing division of the Harvard Medical School. The goal of its publications is to bring people around the world the most current health information that is authoritative, trustworthy, and accessible.
This title is part of a series of Harvard Medical School Guides that are short, practical original works, organized by Harvard Health Publications and drawing on the resources of Harvard Medical School.
About RosettaBooks: RosettaBooks is the leading independent eBook publisher, responsible for such timeless classics as Brave New World, Slaughterhouse-Five, The 7 Habits of Highly Effective People, and the complete works of Winston Churchill. Publisher of ten Kindle Singles, including Ray Bradbury's The Playground, RosettaBooks has launched nine of them to bestseller status. For more information, please visit RosettaBooks.com and follow the e-publisher on Facebook and Twitter.