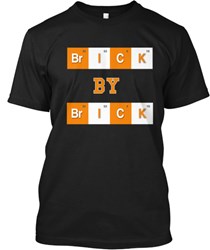 "Every house begins with a solid foundation," Jones said in speech after speech. "We are laying that foundation brick by brick."
Knoxville, Tennessee (PRWEB) October 01, 2013
Coach Butch Jones comes to the University of Tennessee with a blue collar work ethic. The University of Tennessee Volunteers football team has found itself in need of just such a work ethic.
In setting the tone for the work ahead Coach Jones referenced building it brick by brick. Brick by Brick Vols is a fan club that sprang up from that philosophy. They are not officially affiliated with the University of Tennessee or Coach Butch Jones and his staff.
They represent the fans that stand behind the team and strive to keep their focus on the rebuilding process. They recently launched a limited edition apparel line including t-shirts, hoodies and long sleeve ts as well.
Brick By Brick Vols can be found on Facebook.
Their limited edition apparel line can be found here.