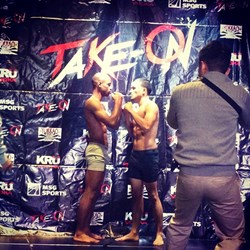 "If he remains as committed as he has been to this point then there is no doubt that he can continue to be successful."- Julius Park
Baltimore, MD (PRWEB) October 02, 2013
Fighting out of Crazy 88 Brazilian Jiu-Jitsu in Elkridge, MD, Ricardo Mixco took the win during his second appearance with Take On Productions at the event Take On Muay Thai XXIII in New York City on September 27.
Muay Thai is a stand-up combat sport that originates from Thailand. The sport is gaining popularity in Western Countries due to its influence in mainstream mixed martial arts such as the Ultimate Fighting Championship (UFC).
Events such as Take On Muay Thai, hosted by Take On Productions, allow rising talent to showcase their skills and put the sport in the spotlight.
Mixco has been committed to a rigorous training and conditioning regiment and has been driven to compete within his last year of training. He has participated in several Smoker events (pre-amateur fights) and made his amateur debut last month through Take On Productions' Battle at Bally's III.
Ricardo faced off against Phil Verna fighting out of The Wat based in Downtown New York City. The fighters lasted all three rounds as the final decisions went to the judges. Mixco won by unanimous decision.
Head Instructor, Julius Park said of Mixco, "He has been working hard for this and has earned this. He is young talent and we're eager to see what the future holds for him." Park continued, "If he remains as committed as he has been to this point then there is no doubt that he can continue to be successful."
To learn more about the fighters and upcoming events at Crazy 88 - Elkridge call (443) 283-1450 or visit http://www.BaltimoreMixedMartialArts.com. To learn more about Crazy 88 - Owings Mills call (410) 999 - 1064 or visit http://www.Baltimore-MMA.com.