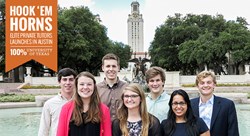 Our mission is to make moms' lives easier. We know that the Austin market is ready for us from a technological perspective as one of the only agencies to offer a state of the art online booking software.
Austin, Texas (PRWEB) October 02, 2013
Neha Gupta, CEO and founder of Elite Private Tutors, is expanding their services to the Austin region. "With our growth and results from the past few years of serving Houston families, it just made sense to broaden our reach, so more students have the opportunity to experience Elite Private Tutors," says Neha Gupta. She has partnered with a former student that she helped to get into UT-Engineering. Michael Cisarik, (http://www.eliteprivatetutors.com/people/michael-austin/) a young student at UT-Austin, is excited to help students in the Austin area, get the aid he needed to succeed at Memorial High School in Houston. Learning leadership and management skills as the Recruitment Manager at Elite Private Tutors, he is excited to spread the Elite Private Tutors family to Austin. "I was so excited when Neha approached me because I knew exactly what kind of tutors she was searching for to expand her team to Austin. After I had such a great experience at Memorial, I was happy to continue the EPT legacy. Elite Private Tutors does not just simply tutor your child but give them the foundation to succeed both inside and outside of school," says Cisarik.
Elite Private Tutors specializes in one-on-one academic coaching, personal coaching, test prep, and consulting for students ranging from Elementary School to High School. Their tutors go through the most rigorous training program – learning how to be charismatic, enthusiastic, and patient with students.
With the new expansion, the Austin team will be made up of some of the top students attending the University of Texas. Neha encourages and ensures that her tutors think differently about education and human psychology. She has a background from the University of Texas-Plan II Honors Program and Communications-Advertising Program.
Making tutoring appointments with Elite Private Tutors has never been easier, and Gupta believes that Austin will embrace their forward-thinking technology. Parents can book online 24/7 days a week with their online system, and tutors have a mobile app to check in for their schedule. Parents also can use the online system to receive trackable tutoring reports – that will help them to get a snapshot of each session. "Our mission is to make moms' lives easier. We know that the Austin market is ready for us from a technological perspective," says Gupta.
More information can be viewed at http://www.ElitePrivateTutors.com.