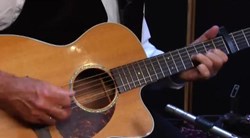 (PRWEB) October 01, 2013
The country blues lesson is an excerpt from Dillon's forthcoming Ultimate Acoustic Blues guitar course. In the lesson, available now on YouTube, Dillon demonstrates how using a common guitar tool called a capo can help guitarists play a country-fied version of the blues.
The capo, Dillon explains in the lesson, is a critical tool in playing a jangly. country blues. A capo is a tool guitarists use to bar the strings of the guitar at any location on the neck. Because barring the strings otherwise requires using a finger or fingers, employing a capo simplifies the chord structures required to play in upper keys, and move freely up the neck of the guitar.
The capo allows guitarists to use the simple, open chords they already know to play a whole new sound and experiment with riffs and licks to compose original songs and improve their guitar solo-ing skills. Dillon shows how to play a number of blues licks, with the capo clipped on the fifth fret of his guitar.
"Country blues is a big part of the how the blues evolved," Dillon says. His goal in lessons like these, and the Ultimate Acoustic Blues course, is to cover all aspects of blues music, and incorporate them all into his sound: from ragtime influences, gutbucket blues and the delta blues to more shuffle-y big-city blues and acoustic country. Dillon also demonstrates how many modern acts like Mumford and Sons or the Avett Brothers sometimes play with an appalachian country blues sound, as he plays a riff that might fit on either band's next record.
A Michigan native and founder of the Blue Star Music Camps, Jimmy Dillon plays and teaches a variety of musical styles including blues, rockabilly, latin, funk, and country music. Dillon has released five albums worth of original material and covers, and as a backing musician has supported artists like Bruce Springsteen and Bob Dylan. In addition to the duet he performed with blues legend John Lee Hooker, Dillon has performed alongside Sting, Joe Cocker, Buddy Guy, BB King, and many more.
About GuitarControl.com
GuitarControl.com is packed with resources, video tutorials and lessons, articles, and affordable DVDs to help new guitarists learn and experienced guitarists master their instruments. Guitarists of any experience level find guitar lessons from instructors with a broad array of music backgrounds and styles - blues, jazz, metal, classical, folk, progressive rock, punk, and everything in between. Guitarists can find relatable, easy-to- follow videos regardless of their ability or musical taste.