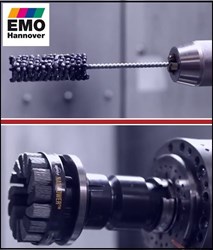 At the BRM booth, visitors were impressed by how Flex-Hone® and NamPower brush tools improve quality while speeding operations.
Los Angeles, CA (PRWEB) October 01, 2013
Brush Research Manufacturing (BRM), maker of flexible hones and abrasive nylon brushes, attended EMO 2013 from September 16 to 21 in Hannover, Germany. Michael Miller, BRM's VP of Global Sales, answered technical questions about the California company's products and explained how Flex-Hone® and NamPower technologies help automate surface finishing and deburring operations.
Partners, Purchasing Power, and Production Machinery
"It was a great show," Miller said. "We wish to give special thanks to Klaus Krupp, Jurger Koehler, and Siegfried Grunert of WKD, our distributor in Germany and our partner at this exhibit. This would not have been possible without them." Billed as the world's premiere event for metalworking, EMO 2013 hosted 2100 exhibitors from 43 countries and attracted 145,000 visitors from 100 nations.
According to a tradeshow survey, 50% of EMO Hannover visitors were corporate managers with purchasing authority. These attendees reported that their main reason for attending the show was an interest in expanding and modernizing their production machinery. At the BRM booth, visitors were impressed by how Flex-Hone® and NamPower brush tools improve quality while speeding operations.
Flexible Honing Tools for Cylinder Walls
For deburring and surface finishing cylinder walls, flexible hones are the standard against while all other tools are compared. As BRM's Miller explained and this Flex-Hone® video shows, cylinder honing tools mount in machine centers and can be used with lathes, mills, drill presses, and other production equipment. Applications include cross-hole deburring, bore finishing, bore blending, and port radiusing.
To remove cut, torn, or folded metal, BRM ball hones feature high-quality abrasive globules and use a low-temperature, low-pressure abrading process that leaves the base metal undisturbed. The plateau finish that flexible honing imparts also optimizes lubrication by creating a series of uniformly-spaced, oil-retaining grooves.
Nylon Abrasive Brushes for Automated OD Finishing
BRM also showcased its high-performance nylon abrasive brush tools at EMO 2013. NamPower brushes are integrated easily into automated machinery, CNC machining centers, robotic cells, and transfer lines. As this NamPower video explains, these industrial brushes are ideal for outer diameter (ID) burr removal and surface improvement operations.
The NamPower family of brush tools includes two types of abrasive disc brushes (dot and turbine), abrasive hex-drive tools, composite hub wheel brushes, and lightweight tool holders. As visitors to the BRM booth at EMO Hannover learned, abrasive disc brushes can be used for light-to-moderate or heavy-duty burr removal.
EMO Milan 2015
With EMO Hannover complete, event organizers and exhibitors are reviewing this year's tradeshow numbers and already looking forward to EMO Milan 2015. "Across the board, visitor feedback is topping the scales," said EMO General Commissioner Carl Martin Weckler in a recent magazine interview about the just-completed event. For his part, BRM's Mike Miller was also impressed with EMO 2013.
"Besides meeting new customers from around the world," Miller said, "we had a chance to have in-depth meetings with many of our distributors, including Brain Products from Sweden, Van Nunen from the Netherlands, Tecnimetal and Vogel from Italy, Baumgartner and Brutsch Ruegger from Switzerland, Suleyman Gormus from Turkey, Jakov Frederick from Russia, and Asia Kendy from Thailand."
About Brush Research Manufacturing
Brush Research Manufacturing (BRM), makers of a full line of flexible honing tools and industrial brushes, is located in Los Angeles, California. For 55 years, BRM has been solving difficult finishing problems with brushing technology. BRM's Flex-Hone® tool is the standard against which all other cylinder hones are compared. NamPower abrasive disc brushes are ideal for outer diameter (OD) burr removal and surface finish improvement.
Media Contact:
Heather Jones
Director of Marketing
Brush Research Manufacturing Co. Inc.
4642 Floral Drive
Los Angeles, CA 90022
HJones(at)brushresearch(dot)com
For Immediate Release:
http://www.brushresearch.com/
Ph: (323) 261-2193