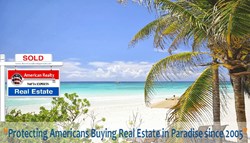 Playa del Carmen, Riviera Maya, Quintana Roo, Mexico (PRWEB) October 01, 2013
Owning a luxury home in a tropical paradise seems out of the realm of possibility for most Americans, but in reality it's not that difficult to accomplish. Spending less than a moderate townhouse or condo back home where winter is just starting to creep up, buyers can now buy a spectacular home in the brand new Caribbean Living development in Playa del Carmen. Condos are starting at 59,000 USD and townhouses from 99,000 USD, which is an incredible price for a beautiful luxury home that comes with all the amenities that US and Canadian residents are accustomed to.
American Realty long known as one of the Caribbean's most trusted brokers, specializes in bringing Canadian and American clients a dream home in Riviera Maya. The thought of buying a home so far away and then relocating there can be very overwhelming, so American Reality takes care of all the details in an efficient and affordable way. Their many years of experience, contacts in both countries, and high standards of professionalism help them to make every client's relocation experience easy and cost-effective.
This begins with handling the legal aspects of the move. Thanks to the NAFTA Agreement, Americans and Canadians can purchase property in Mexico, and their highly trained agents know exactly how to handle all the necessary steps to make sure everything goes smoothly and by the book so there are no problems down the road. An American in Mexico does not need to worry about their property ownership rights, and this company will help you understand exactly how it all works.
Living in a dream home in paradise doesn't have to be just a dream tucked away for some day far in the future. It is happening today! For more information on this great new development visit their website at American Realty and they will help you every step of the way.