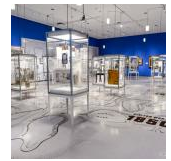 From its beginnings, Green-Wood addressed far broader themes and aspirations than its predecessors, and represented a new type of burial place: non-sectarian and not even adjacent to a church.
New York, NY (PRWEB) October 01, 2013
A Beautiful Way to Go: New York's Green-Wood Cemetery, an exhibition marking the 175th anniversary of this National Historic Landmark in Brooklyn, is in its final weeks at the Museum of the City of New York. The exhibition closes on October 13th.
The exhibition features more than 200 objects, ranging from original artifacts, sculptures, architectural drawings, and paintings to historic documents and vintage and newly commissioned photographs, in an installation that lays the cemetery's landscape plan beneath visitors' feet.
Predating both Central Park and Prospect Park, Green-Wood was a pioneering example of the "rural cemetery movement" and one of the most important public green spaces in 19th-century America. As the exhibition demonstrates, the story of Green-Wood Cemetery is multi-faceted, comprising equal parts architectural, art, social, and cultural histories. It has become an increasingly important center of historic, architectural and cultural preservation. Its grounds are a museum of monuments and statuary by leading architects and artists in a wide range of styles. Its bucolic landscape, which reflected changing notions of death and nature, influenced other so-called rural cemeteries and public parks.
Highlights of A Beautiful Way to Go: New York's Green-Wood Cemetery include:

19th-century landscape paintings by Asher Brown Durand and John William Casilear, important Hudson Valley School artists who are buried at Green-Wood Cemetery, as well as other works of art lent by leading museums.
Eight large photographs of Green-Wood, each measuring 20" x 48" and depicting different seasons, taken by leading contemporary photographer Jeff Chien-Hsing, which were commissioned by the Museum specifically for the exhibition.
Historic maps, guidebooks, and other memorabilia, such as a domestic clock with Green-Wood imagery.
Viewing machines with "stereographs," which render popular vintage images of Green-Wood Cemetery in three-dimensions.
A zinc sculpture of a Civil War soldier at Green-Wood Cemetery, one of four that were copied in cemeteries across the country.
The Founding of Green-Wood Cemetery
The founding of Green-Wood Cemetery was sparked by New York City's enormous growth at the beginning of the 19th century. The opening of the Erie Canal in 1825 linked New York and its port to America's western regions, making the city an economic powerhouse and a magnet for waves of immigrants seeking employment. As the population zoomed, existing burial grounds in Manhattan soon filled up, and new ones were required. Green-Wood Cemetery, incorporated on April 18, 1838 in the newly incorporated city of Brooklyn, responded to this need.
From its beginnings, Green-Wood addressed far broader themes and aspirations than its predecessors, and represented a new type of burial place: non-sectarian and not even adjacent to a church. Green-Wood's bucolic landscape, a prime example of the rural cemetery movement of the 1830swould influence not only the nation's other rural cemeteries, but also its public parks and outlying suburbs.
At the same time, Green-Wood is an important site in art, architecture, and design and is socially significant as well; burial at Green-Wood quickly attained considerable cachet, attracting the most accomplished New Yorkers to select Green-Wood as their final resting place. As an acknowledgment of these considerable distinctions, Green-Wood in 2006 became only the fourth cemetery in the United States to be designated a National Historic Landmark.
Exhibition Themes and Installation
Introductory Gallery
Green-Wood's past and present come together in the exhibition's introductory gallery. Green-Wood today is presented via eight large photographs that depict the cemetery in every season. These photographs were commissioned by the Museum specifically for the exhibition, and taken by leading contemporary photographer Jeff Chien-Hsing.
Green-Wood's founding also is presented via drawings, maps, and historical documents that look at the cemetery within the context of the rural cemetery movement. As this section shows, the booming industrial cities of Europe and America around 1800 were often overcrowded, unsanitary, and ridden with lethal diseases. These conditions propelled city dwellers to seek respite. The phenomenon of the rural cemetery, with its verdant lawns, trees, and water features, all within easy travel distance from the city, was inaugurated in 1804 with Paris's Père-Lachaise.
The rural cemetery movement soon spread to England and, by the 1830s, to the United States. The first such cemetery in this country, Mount Auburn in Cambridge, just across the Charles River from Boston, was established in 1831, followed by Laurel Hill Cemetery on the periphery of Philadelphia, and, in 1838, Green-Wood Cemetery in southwestern Brooklyn. Its landscape was designed by David Bates Douglass.
Following the precepts of the time, Douglass "improved" upon the natural features of Green-Wood's original 178-acre site by adding gently curving paths and framing views of unexpected sights and vistas. Special attention is paid to Henry Evelyn Pierrepont, who served on the commission established to plan Brooklyn's physical layout and whose commitment to the rural cemetery movement led to Green-Wood's creation. Through a specially created graphic display, exhibition visitors are able to follow Pierrepont's explorations in search of design prototypes for Green-Wood, from Mount Auburn Cemetery, which he visited in 1832, to Père-Lachaise in France and Campos Santos in Italy.
Primary Gallery
In the exhibition's main gallery, visitors can walk on a gallery-sized map of Green-Wood Cemetery, which serves as a framework for the positioning of many of the exhibition's artifacts. These materials explore the landscape, art, and architecture of Green-Wood as well the stories of its most celebrated permanent residents.
Green-Wood's Permanent Residents
From its beginnings, Green-Wood's bucolic setting was a magnet for many leading New Yorkers, with the first generation of its prominent residents attracting future ones hoping to secure their final resting place in exalted company.
Given its picturesque landscape of spectacularly designed monuments, Green-Wood understandably drew special attention from 19th-century artists and architects seeking a final resting place. These included Asher B. Durand, leader of the Hudson River School; James Renwick, Jr., who designed St. Patrick's Cathedral; and decorative master Louis Comfort Tiffany. Other celebrated residents now range from musician Leonard Bernstein on to abolitionist Henry Ward Beecher, industrialist Peter Cooper, piano manufacturer Henry Steinway, toy merchant Frederick A.O. Schwarz, political powerhouse "Boss" Tweed, Pan Am airline founder Juan Trippe, and artist Jean-Michel Basquiat.
Elucidating the myriad contributions that Green-Wood's residents have made to both New York City and the world, the exhibition features artifacts that serve as mementos of the active lives of Green-Wood's residents. Artifacts on view are drawn from the cemetery's own collections, as well as from those of the Museum of the City of New York and other leading museums and institutions.
The exhibition includes a selection of vintage photographs of important people buried at Green-Wood taken by Napoleon Sarony, one of the most popular and prolific portrait photographers of the 19th century. (Sarony is buried at Green-Wood.) There also are paintings by artists buried at the cemetery; prints by illustrator Nathaniel Currier; a headdress and lamp by Louis Comfort Tiffany; a sewing machine made by Elias Howe, inventor of the first American-patented example; musical scores by composers Leonard Bernstein and Fred Ebb; a Kodak camera designed by Walter Dorwin Teague; the first modern safety pin invented by Walter Hunt; and, tobacco canisters and signs for Lorillard, founded by Pierre Lorillard.
Art, Architecture, and Design at Green-Wood
Major works of art and architecture complement the beauty of Green-Wood's natural landscape. Starting at its imposing entrance gates, designed in the Gothic Revival style by Richard Upjohn and Son, Green-Wood's buildings and structures offer a panorama of myriad aesthetic movements and changing tastes from revivals of Egyptian to Romanesque and Renaissance traditions.
As many of New York's leading architects worked in Green-Wood Cemetery, it also provides a resume of their careers on a small scale. Green-Wood's architectural masterworks include its chapel, designed by Warren & Wetmore, best known for Grand Central Terminal, in a style inspired by Christopher Wren's Thomas Tower at Oxford, as well as structures by John Russell Pope and McKim, Mead & White.
With its stately rows of stone obelisks and picturesquely placed tombs, Green-Wood also houses a remarkable collection of sculptural monuments by such figures as Daniel Chester French and Augustus Saint-Gaudens. As such, Green-Wood advanced efforts by late 19th-century American artists to elevate the nation's artistic heritage. In 1893, for example, French, Saint-Gaudens, and others formed the National Sculpture Society to educate the public about good sculpture.
The exhibition features original drawings and other historic artifacts underscoring Green-Wood's architecture and art heritage. Specific examples include a full-scale zinc sculpture of a Civil War soldier at Green-Wood. There are beautiful contemporary black-and-white photographs of the cemetery's buildings and monuments by photographer Colin Winterbottom. Other materials on display include19th-century mourning clothes and artifacts; a suite of exquisite prints by James Smillie, dated 1846; photographs by Joseph Hall, circa 1865; hundreds of vintage stereopticons; vintage guide books; brochures; advertisements; and even domestic lamps incorporating Green-Wood imagery, all of which demonstrate the popularity of the site's romantic and picturesque beauty with the general public. Throughout the 19th century, Green-Wood ranked as New York State's second most popular site, after Niagara Falls, to be visited by tourists.
Additionally, the exhibition's primary gallery features a slide show exploring various cultural aspects of Green-Wood. They are:
Green-Wood and Changing Notions of Death and Nature
The cemetery embodied and advanced transformations in 19th-century notions of nature. Green-Wood's bucolic landscape was a place where people could experience nature as a friendly and comforting force, a far cry from society's previous view of nature as hostile and unforgiving.
At the same time, Green-Wood sought to bring nature and God into harmony. Its artistic and architectural treasures were replete with positive messages—a note struck by the heaven-pointing spires of its Gothic Revival entrance gates and continued by its fields of religious statuary. As such, Green-Wood offered visitors a place of moral contemplation and education, which aligned with changing notions of religion. In contrast to the beliefs of 17th- and 18th-century American Calvinists, who viewed death with dread (only a select few escaped damnation and hell), 19th-century Protestants sought a more forgiving God, one they might find in Green-Wood's gentle landscape.
Green-Wood and American Parks and Suburbs
The legacy of Green-Wood Cemetery is explored through the efforts of Andrew Jackson Downing, one of the most important 19th-century designers and writers. This section looks at Downing's influential publications, which praised Green-Wood and influenced urban parks, such as Manhattan's Central Park. The impact of the picturesque landscapes of rural cemeteries on early American suburbs such as Llewellyn Park, New Jersey, also is examined.
Green-Wood Today
Additionally, the exhibition's primary gallery features a slide show exploring Green-Wood Today. It demonstrates how greater public access and innovative programming are re-inventing the site and drawing a new public, convincing people that Green-Wood is more than a cemetery, but an historic urban treasure to experience, explore, and visit again and again.
Exhibition Credits
A Beautiful Way to Go: New York's Green-Wood Cemetery is organized by Donald Albrecht, the Museum of the City of New York's Curator of Architecture and Design. The exhibition has been designed by Abbott Miller of Pentagram.
Funding Credits
A Beautiful Way to Go: New York's Green-Wood Cemetery is made possible by Mr. and Mrs. C. Payson Coleman Jr., Mr. and Mrs. Earl D. Weiner, Ann Walker Gaffney, Gibraltar Mausoleum Construction Company, Platt Byard Dovell White Architects, Regan Agency Inc., and Supreme Memorials, Inc. Additional support is provided by The Green-Wood Cemetery.