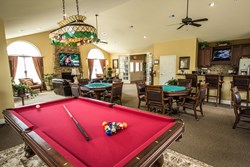 Today more than ever, people are placing a huge premium on their free time, preferring to spend it with friends and family doing things they love, rather than on mundane household chores.
(PRWEB) October 02, 2013
With the recent surge in maintenance-free living communities, homeowners can experience the benefits of owning a home without the hassle of routine upkeep, freeing up time for activities and interests that bring them optimum fulfillment.
Homebuyers of all stages of life are opting for a maintenance-free lifestyle for many reasons. Many active adults simply no longer wish to be troubled with routine house chores, while career professionals recognize that a maintenance-free community best suits their busy lifestyles. Maintenance-free means never having to shovel snow or mow the lawn again. It's having the extra time to enjoy life the way homeowners want it, be it golf, relaxing at the pool or spending stress-free weekends with friends and family. It's the peace of mind that comes from being able to take a vacation without worrying about upkeep while away. And most importantly, with less time devoted to home maintenance, it's an opportunity for homeowners to enrich their lives, develop new friendships, enjoy favorite hobbies and explore new interests.
"Today more than ever, people are placing a huge premium on their free time, preferring to spend it with friends and family doing things they love, rather than on mundane household chores. Professionals handle all the exterior home maintenance duties, relieving residents of these burdens so they have more time to pursue the many social and recreational opportunities that are available both inside and outside of the community," said Leigh Nevers, Vice President of Sales & Marketing for Wilcox Communities.
Not only are Wilcox residents relieved of routine home maintenance, but they can also take advantage of a variety of amenities and features available within each carefully planned community, including a state-of-the art clubhouse. Each well-appointed clubhouse is centrally located within each community and features a spacious great room, kitchen, pool and a 24/7 fitness room. Whether starting the day meeting fitness goals, catching up with a friend over coffee or enjoying a leisurely walk, residents are warmly welcomed into a dynamic community of neighbors with similar interests.
There always is something fun to do in the community. Whether engaging in lively discussion during "Coffee & Conversation" or helping to hang the clubhouse's holiday decorations, homeowners can come together in the clubhouse year-round.
This Fall, homeowners are enjoying a variety of monthly events at the private clubhouse such as:

Monthly Coffee & Conversation
Book Clubs
Bunco or Game night
Movie Night
Sunday Night Football
Chili Cook-off
Fall Fest Event
Thanksgiving Breakfast and Decorate Clubhouse Day
Annual Christmas Exchange
Whether you prefer an active lifestyle or a life of relaxation, Wilcox offers the ideal home for every type of homebuyer. Each thoughtfully designed floor plan features at least two bedrooms, top-quality amenities, plenty of storage space and a worry-free maintenance program that makes luxury, comfortable living easy and enjoyable. Many floor plans also feature private patios and courtyards, covered porches and three-or-four season rooms, perfect for relaxing and entertaining.
"Our maintenance-free communities give you the gift of time, allowing you to experience so much more in life. A short drive through any one of our communities will clearly demonstrate the benefits of the 'maintenance-free lifestyle' and that the comfort of our residents is always our top priority," said Nevers.
About Wilcox Communities
This carefree lifestyle is the hallmark of every new home community built by Wilcox Communities, a leading builder of lifestyle-rich new home communities and one of the fastest growing builders in the Midwest. Wilcox exclusively builds maintenance-free homes and has communities located in Ohio, Indiana, Illinois, North Carolina, Missouri, Alabama and Tennessee. By incorporating cutting-edge design, superior workmanship and an unparalleled commitment to customer satisfaction, Wilcox Communities continually provides lifestyle solutions to individuals and families looking for a more carefree choice of home ownership.
To learn about all the advantages of living in a Wilcox Community or to find a community near you, visit http://www.wilcoxcommunities.com.