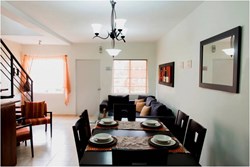 Playa del Carmen, Riviera Maya, Quintana Roo, Mexico (PRWEB) October 01, 2013
A-1 Quality, an American based conglomerate with important holdings in the market, has recently named the new project, Caribbean Living, as the "Best Value" in the market. This project is being brokered by American Realty, the longtime value leader in the market. Here are the criteria that lead to "Best Value" designation:
1. Price. Offering condos from $59,000' USD and Town-homes from $99,000 USD, there is simply nothing in the market with a clear title like it. These prices are unheard of in most markets the both the US and Canada, and until recently unheard of Playa del Carmen as well. But with a project that has been in the works over a decade, the developers took advantage of land prices from 10 years ago, and have passed the savings on to their buyers.
2. Quality. These properties are built with US quality construction and include the luxuries and amenities that our American and Canadian clients do not like to live without. This includes American and Canadian television programming, made available by a special deal that is available only through American Reality, to our knowledge the only deal of its kind in the Caribbean. You can own a luxurious home in the middle of paradise without settling for sub-par building standards.
3. Security. These 100% gated communities offer safety and privacy that will help you feel comfortable even when you are not here. Many owners who only use their units during the winter leave a car in their designated parking space for the duration of the time they are not in Paradise.
If you are ready to start looking for affordable luxury Playa del Carmen real estate, simply visit their website for more details and to get in contact with one of their helpful representatives.