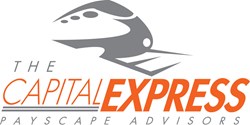 The term capital better aligns with Payscape's mission to provide financial technology products and services that increase cash flow and ultimately grow our clients' businesses."
Atlanta, GA (PRWEB) October 01, 2013
Payscape Advisors announced today that it has renamed merchant cash advance product The Loan Express to The Capital Express. The goal of the name change is to align the revolutionary cash advance product with Payscape Advisors' line of innovative FinTech products and services designed to increase cash flow for the SMB market.
"After closer inspection, much consideration, and many conversations with business owners, the team decided that the word loan had a negative connotation," said John Mills, District Sales Manager of Payscape Advisors. "The term capital better aligns with Payscape's mission to provide financial technology products and services that increase cash flow and ultimately grow our clients' businesses."
Unlike a traditional cash advance, determined by Visa and MasterCard processing history, The Capital Express provides merchants operating capital based on total revenue, increasing the amount a merchant may borrow to renovate, open a second location, or purchase new equipment or technology. In addition to the brand relaunch, The Capital Express now offers flexible equipment leasing options for any business owner interested in financing commercial or IT equipment.
For more information, please visit http://payscape.com/working-capital.php.
About The Capital Express:
Imagine what your business could do with extra cash. With no upfront fees and a simple application process, The Capital Express offers working capital solutions to renovate and operate your business, open a new location, upgrade technology and equipment, advertise, and more. Unlike a traditional merchant cash advance, The Capital Express provides operating capital based on all revenue (not just your Visa and MasterCard processing history) and is ideal for any business owner looking to increase cash flow. With a user-friendly application and approval within 48-hours, The Capital Express has become Payscape Advisors' most popular cash advance product. For more information, visit http://payscape.com/working-capital.php.
About Payscape Advisors:
Offering dynamic payment solutions to businesses of all shapes and sizes, Payscape Advisors provides merchants, business owners, and entrepreneurs with financial technologies that allow them to accept payments, streamline operations, and increase cash flow. Our dedication to payment technology and industry innovation is consistent; our mission is clear: to make it simple for business owners to collect money. Whether you accept credit cards at your retail storefront, process payments through a mobile phone, promote gift cards, operate an online shopping cart, or electronically invoice clients, Payscape offers financial products and services guaranteed to satisfy your cash flow needs. To learn more, visit http://www.payscape.com.