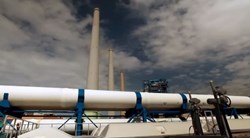 This app is poised to change the way safety consultants in the oil and gas industry do business.
Calgary, AB (PRWEB) October 02, 2013
The oil and gas industry is constantly being updated by new innovations and technology. The same can be said for its subsidiary industries. Recently, change has come to the oilfield safety and inspection business. Although oilfield safety inspections have been carried out the same way for many decades, a newer and more robust method for undertaking inspections has arrived in the form of an oilfield inspection app.
This app is poised to change the way safety consultants in the oil and gas industry do business. Where safety inspections previously created a literal paper trail which had the potential to create confusion and lower response times, the oilfield inspection app allows safety inspectors to upload their inspection data easily, efficiently and as soon as it is compiled. Data is then housed and manipulated through a central admin panel accessible from anywhere. Issues of greater importance can be flagged, and response times can be dramatically improved, as everyone involved in the project can be informed immediately of developments as they happen on the ground.
The oilfield inspection app also encourages greater accountability from inspectors, whose productivity can be monitored using a Check-in feature. The same Check-in feature can be used to ensure sites are inspected according to a rigorous schedule. The app enables notes, images and other types of media to be uploaded using intrinsically safe mobile devices (including iPhone, Android and iPad), and facilitates more efficient, organized way of compiling, assessing and utilizing inspection data.
All of these innovations are important and add a great deal of value to an oilfield inspection company, but a new offering from the makers of the app and oilfield inspection software ensures the app will remain useful to every oilfield inspection company. This offering is the ability to create customized procedural forms within the app for inspectors to use during specific tests and operations. These forms, which can be built easily by anyone regardless of their level of tech savvy, enable timestamps for each step of a given procedure, and can be used to increase quality assurance, as companies can confirm how and when their inspectors are carrying out procedures in the field.
These forms can be customized to fit a wide variety of inspection procedures, including the Blowout Prevention test and many others. Inspection companies can even collaborate with their inspectors to ensure the forms are as user-friendly as possible. Data from these forms will be precise and rigorous and will guarantee these inspections are conducted with a maximum degree of professionalism, thoroughness and efficiency.
For those oilfield inspection companies looking to provide additional value to their clientele, there is an oilfield inspection app reseller program.