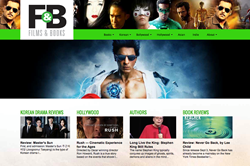 Stephen King has been called the King of horror, but it might be more proper to call him the King of the bestseller lists, since at more than 50 books in, every title has been an International bestseller.
Toronto, Ontario (PRWEB) October 01, 2013
As Halloween draws closer, Films & Books Magazine is preparing the way with reviews of the scariest and most thrilling books and movies for the season. This week, Films & Books editors profile the king of horror, Stephen King, and review three thrilling bestsellers and one thrilling movie.
"Author Profile: 'Long Live the King: Stephen King Still Rules"
The name Stephen King typically conjures up images of ghosts, spirits, demons and aliens in the minds of most people. He has been called the King of horror, but it might be more proper to call him the King of the bestseller lists, since at more than 50 books in, every title has been an International bestseller. He's sold more books than Charles Dickens, hundreds of millions.
King's style has evolved over the decades, and his fans right along with him. Vintage King is recognizably different from modern King. It would be fair to say he has many styles, many innovative ideas, many ways of telling stories, and he works in multiple genres. He is thought of as King of Horror, but many of his books have broader mainstream appeal, or literary impact. His fantasy novels, the Dark Tower series, constitute arguably one of the best fantasy epics of all time. Read more of this in-depth profile.
"Review: Stephen King's 'Doctor Sleep': You Wont' Sleep"
If the synopsis for Doctor Sleep convinced you it was simply a scary novel about "psychic vampires who prey on children, and an alcoholic psychic hero who tries to stop them" you would not be entirely mistaken, but you'd have missed the real story. Doctor Sleep is a masterful work of fiction that focuses on the theme of family.
Who but Stephen King could take a theme as ubiquitous as family and turn it into epic horror? The much anticipated sequel to Stephen King's The Shining, is really a story of family. Yes, it's scary, suspenseful and seriously exciting, but at its heart, this is a story about families: some families supportive, others dysfunctional, bad, and twisted. Read more about Doctor Sleep.
"Film Review: Ron Howard's Rush"
Finally, a movie based on racing and Formula One. Rush is a movie that combines the petrol thumping world of motor racing with the human emotions and drama that affect it off the track very capably. The story is such that even non enthusiasts of motor racing will have no trouble following as it weaves a complex tale that entwines the lives of its two primary characters. The races are filmed with technical brilliance and the performances are excellent that would evoke a reaction from even the grittiest members of the crowd.
Directed by Oscar winning director Ron Howard, Rush is a true story based on the events that shook the motor racing world in the 1970's. Written by Peter Morgan, it depicts the polar opposite lives and characters of two drivers, as they become entangled in one of the bitterest rivalries in motor sport history, fighting for the crown of the 1976 Formula One world championship. Full review
"Review: 'Help for the Haunted' by John Searles
John Searles' new novel Help for the Haunted showcases his mastery of prose and hypnotic story telling in a manner that is sure to make him a top ten mystery and thriller author. This new release best seller, Help for the Haunted, promises and delivers a tale that works well in many different ways and perhaps most importantly sends goosebumps and shivers at all the right times. John's work here is well timed with Halloween fast approaching. Read review
"Review: 'Never Go Back' by Lee Child"
Since release Sept 3, Never Go Back has already become a mainstay on the New York Times Bestseller list and is currently the number 1 most popular hardcover fiction novel. For heart-pounding action and edge of your seat suspense, Lee Child's latest Jack Reacher novel for a top notch thriller read.
Long considered one of the world's best thriller writers, Lee Child — otherwise known by his real name Jim Grant — is known for his page-turning prose that keeps the reader on the edge of his or her seat. Told from the perspective of a single protagonist, this first person novel illicits an emotional connection and response from every reader. As the pages turn, the reader becomes engrossed in the life of Jack Reacher and begins to see things from his eyes. Child does a superb job of grabbing the reader's attention and maintaining it throughout the entire book. Read full review
About Films and Books
Since 2006, films and Books zine—affectionately known to early audiences just as Films and Books or as F&B—has been bringing the latest news, views, and reviews on the film and books industries—the two treasures of modern culture, with a special focus on the International scene. With tens of thousands of visitors each week, F&B is relied upon by fans of modern film and books.
Films and Books is a Zines Online publication, a service of Persona Corp.