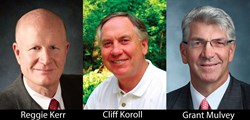 "It is a great honor to have these sports legends share their experiences with our network of senior finance executives who are devout Blackhawks fans." Ankur Gupta
Chicago, IL (PRWEB) October 01, 2013
Three of Chicago's great hockey players, Grant Mulvey, Cliff Koroll, and Reggie Kerr, will draw upon their extensive Blackhawks experience to discuss what it takes to stay on the top of your game. Their discussion, War Stories from the Bench, will be presented as a keynote of the country's largest private investment conference, the Midwest ACG Capital Connection, on October 22nd at McCormick Place West.
Reggie Kerr is a former left-winger who played most of his 263 games with the Chicago Black Hawks and is now a Chicago based furniture executive. Kerr spent five seasons with the Black Hawks and scored a career-high 30 goals and 30 assists during the 1980-81 season. He is now President of R.J.Kerr, Inc., an office furniture company.
Cliff Koroll He spent his entire NHL career with the Blackhawks from1969 to 1980. Cliff is 14th on the Chicago Blackhawk All-Time Goals Scored List with 208 goals, and 16th on the Chicago Blackhawk All-Time Points Scored List with 462 points. Following his playing career, he served as an assistant coach where he remained until 1987, and then worked in the front office for the Blackhawks until 1989 spending a total of 21 years with the Blackhawk organization. Cliff currently serves as President of the Chicago Blackhawk Alumni and works at Cargill Corporation.
Grant Mulvey excelled as a Right Wing and currently holds a Blackhawk record of scoring five goals in one game. He played as a professional hockey player for eleven years in the National Hockey League, ten years as a member of the Chicago Blackhawk Hockey Team. Grant also enjoyed success with Chicago Wolves Hockey Team as President, General Manager and Head Coach. He now works for Merrill Corporation.
"It is a great honor to have these sports legends share their experiences with our network of senior finance executives who are devout Blackhawks fans." noted Ankur Gupta, Partner with McDermott, Will & Emery, a Director of ACG Chicago and moderator of the discussion.
For more information on the Midwest ACG Capital Connection or the numerous investor forums and networking presented throughout the year, call 877-224-6389.
About ACG Chicago
ACG Chicago is the premier association of leading authorities on corporate growth. As the largest regional network in the Association for Corporate Growth (ACG), ACG Chicago boasts a membership of 1000 foremost professionals who form a diverse organization and knowledgeable network of corporate executives, capital sources, and key advisors. ACG Chicago focuses on the needs of these professionals to build unparalleled opportunities for networking, deal-making, personal growth, and professional development. Visit http://www.ACGChicago.com or call 877-224-6389 for more information.