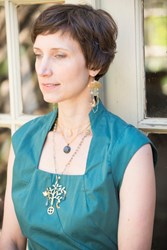 Inspired by rare objects and heirlooms from around the world and reinvented into wearable art.
Boston, MA (PRWEB) October 13, 2013
Handcrafted Jewelry designer Jenne Rayburn is having a Fall Trunk Show during the Fort Point Arts Community Fall Open Studios in Boston, Massachusetts on Saturday, October 19th, from 12pm to 6pm. The Trunk Show will be in the Lobby of 21 Wormwood Street Loft Building. A member artist of the Fort Point Arts Community, Rayburn will be showcasing her handcrafted jewelry collections as well as one-of-a-kind Statement Necklaces. Each piece of Jenne Rayburn jewelry has a story as unique as its design. Inspired by rare objects and heirlooms from around the world and reinvented into wearable art, handcrafted jewelry by Jenne Rayburn is forged out of a passion for uncommon beauty.
Rayburn is fascinated with myths and folk stories that recount heroic adventures and strive to express the mystery and complexity of the human experience. For women who see themselves as unconventional, yet have a sense of tradition and who are imaginative and a little rebellious, but still classic and timeless, Rayburn makes jewelry just for them. "For me the creative process is about making connections; reconsidering, remixing and reimagining what is possible," says Rayburn about her process. "Reusing vintage textiles, findings and components, sourcing ethically conscious metals and stones, and tapping local resources for rare and limited edition material, my collections are contemporary, yet vintage, and always eco-friendly." Each piece is an original design and handmade.
A piece of unique handcrafted jewelry can add transforming style to an outfit and wardrobe. "My new fall collections feature handmade jewelry that enhance the confidence, and the feeling of glamor and beauty you have when you wear jewelry and accessories that express your style and personality," said Rayburn. "Whether you're out on the town, at the office, or dressed casual, a simple embellishment can go far to enhance a woman's individuality and poise."
Rayburn currently has three collections of work. The Ark Collection is inspired by the harmony between nature and culture, and animal stories from world mythology.
Distant civilizations and primitive artifacts influence the Ossis Collection. "I combine the earthy textures of oxidized brass, silver, bone, clay and wood, with the luminosity of moonstone, labradorite, opal, antique glass and enamel," explains Rayburn. "With Ossis I strive to evoke ancient relics worn and improved by the passage of time."
Rayburn is perhaps best known for her vintage inspired collections using repurposed vintage jewelry and components. "I scour antique shops and vintage markets for unique and timeworn materials," says Rayburn. "Then I handcraft these treasures into one-of-a-kind pieces with bold detail, texture and personality."
Fort Point is home to over 300 artists who produce work in a wide array of media. It is recognized as one of New England's largest artists' communities. The historic warehouse buildings of Fort Point house painters, photographers, sculptors, designers, ceramicists, performance artists, jewelers, book artists, digital media artists, and more. Fort Point Arts Community Fall Open Studios is located at A Street, Boston MA 02210.
Jenne Rayburn Fall Trunk Show
Date: Saturday, October 19th
Time: 12pm-6pm
Location: Lobby, 21 Wormwood Street in Boston, MA
For more information, contact sales(at)jennerayburn(dot)com
Visit Jenne Rayburn's collections http://www.jennerayburn.com
Visit Jenne Rayburn on Facebook http://www.facebook.com/Jenne.Rayburn
About: Jenne Rayburn is a Boston-based jewelry/textile artist who also studied interior design and architecture, and her work explores the convergence of architecture, design, technique and identity. Balancing the demands of a career and a growing family, Jenne is a mother, wife and daughter who designs for her and all the women in her life who want to feel uniquely beautiful and powerful. It is her hope that the wearers of her pieces will find joy in a delightful artistic statement, and also something that enhances their individuality and confidence. Her work is suitable for wedding jewelry and is carried in local galleries and online. Please visit http://www.jennerayburn.com for Jenne Rayburn's online flagship store. For wholesale information, please visit jennerayburn.com/wholesale.com.