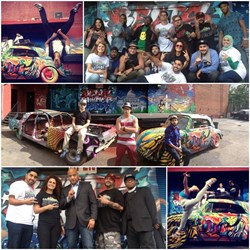 Washington, D.C. (PRWEB) October 01, 2013
On September 28, Washington DC became the third city to enter Beats, Rhymes & Relief's Making Beats Count Contest with a song called "Faces." The video and song featured original lyrics from seven local MC's.
The music video shoot took place as part of a larger community block party that included members of the diplomatic corps, US Government, NGOs, and private sector. Some notable attendees included Congressman Andre Carson, Reverend Yearwood, and Command Sargent Major Michele S. Jones (retired). The event featured local businesses, artists, and children's events including an instrument petting zoo, moon bounce, and balloon artist.
A mural was painted that featured DC monuments with a theme "We the People" besides the Capitol Building. Mural was created by Dallas based artists Joe Skilz, Dtox and Izk.
The DC video and song included seven MCs: Powerful, Mana, Grindstone, Jason Cerda, Radio Rahim, Pro, and Elevator Nate. Video dancers included Rania Jazri from Jordin's Paradise, Jason Cerda and the Cerdafied Dance Crew, lead by Mr. Cerda. The song was produced by: Clyde Bailey and Michael Craig. Music Video directed by: Rameen Aminzadeh and Teddy Cool. Produced by Omar Al-Chaar and Hazami Barmada.
The event was hosted by Beats, Rhymes and Relief with sponsorship from The New Beginnings Vocational School. Event sponsors included PCDJ, Smakaball, Shawafel, Media 13, and Jordin's Paradise.
About Beats, Rhymes & Relief: Beats, Rhymes & Relief is a non-profit organization utilizing the arts to raise awareness and support for worldwide humanitarian relief efforts. Beats, Rhymes & Relief harnesses the power of cultural diplomacy to raise the profile of global issues through high-profile public music concerts. Beats, Rhymes & Relief is a US based NGO headquartered in Washington, DC (EIN 46-2943217).