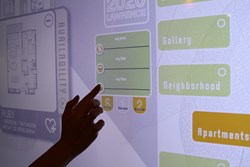 This is shaping up to be a banner year for TouchTour, both in terms of sales growth and product development
DENVER (PRWEB) October 02, 2013
Engrain (http://www.engrain.com), the leader in touch screen property tour and real estate sales/leasing analytic systems, has announced that sales of its TouchTour™ product line through the first three quarters of 2013 are 113% ahead of the same period last year. Several additional large deals are in the contract negotiation stage and likely to close early in the fourth quarter.
"We're excited about the sales growth for a number of reasons, not the least of which is that it validates our approach of combining powerful functionality, custom-crafted interfaces that reflect the unique personality of each property, and powerful analytic capabilities," said Brent Steiner, Engrain president and CEO.
In providing the year-to-date numbers, Steiner also shared his thoughts on where his company, and real estate sales/leasing in general, are headed in 2014. According to Steiner:

Studies show that the majority of retail shoppers use or would like to use digital touch screens in-store and that this will also prove to be accurate reflections of the opinions of real estate prospects as well. The sales process, as a whole, is going digital with more desire to have information readily available at the fingertips.
Prospects will begin to see a "closed loop" system in which information on a property can be found in – and shared among – multiple digital locations (website, touch panel, iPad, mobile, etc.) not as a luxury but as a necessity.
Both leasing teams and potential residents will have decreasing acceptance of printed brochures and forms that quickly become outdated when easily-updated digital versions are an option. The "paperless" real estate office will be more a reality than ever before.
Engrain will continue to focus a large amount of development resources on the industry-leading "analytics" functions within TouchTour. Feedback from users indicates that the data generated is being used to inform and support their business strategy.
The company will also focus on the benefits provided by integration with related systems, as the TouchTour platform has shown to be an ideal "hub" for a wide range of resident communication and service activities.
"This is shaping up to be a banner year for TouchTour, both in terms of sales growth and product development," said Audrey Bolema, marketing and business development director. "The industry's continuing digital evolution and our ongoing collaboration with our clients gives us great optimism for an excellent 2014 as well."
About Engrain
Engrain is a leading provider of immersive touch screen technology and award-winning digital branding and design services for the luxury real estate market. Its TouchTour™ system is used at some of the most prestigious properties in the country. Founded in 1995 and based in Denver, the company works with clients throughout the U.S.
For more information, please contact Audrey Bolema, Director of Sales and Marketing, 303-903-3863 or audrey(at)engrain(dot)com.